Conference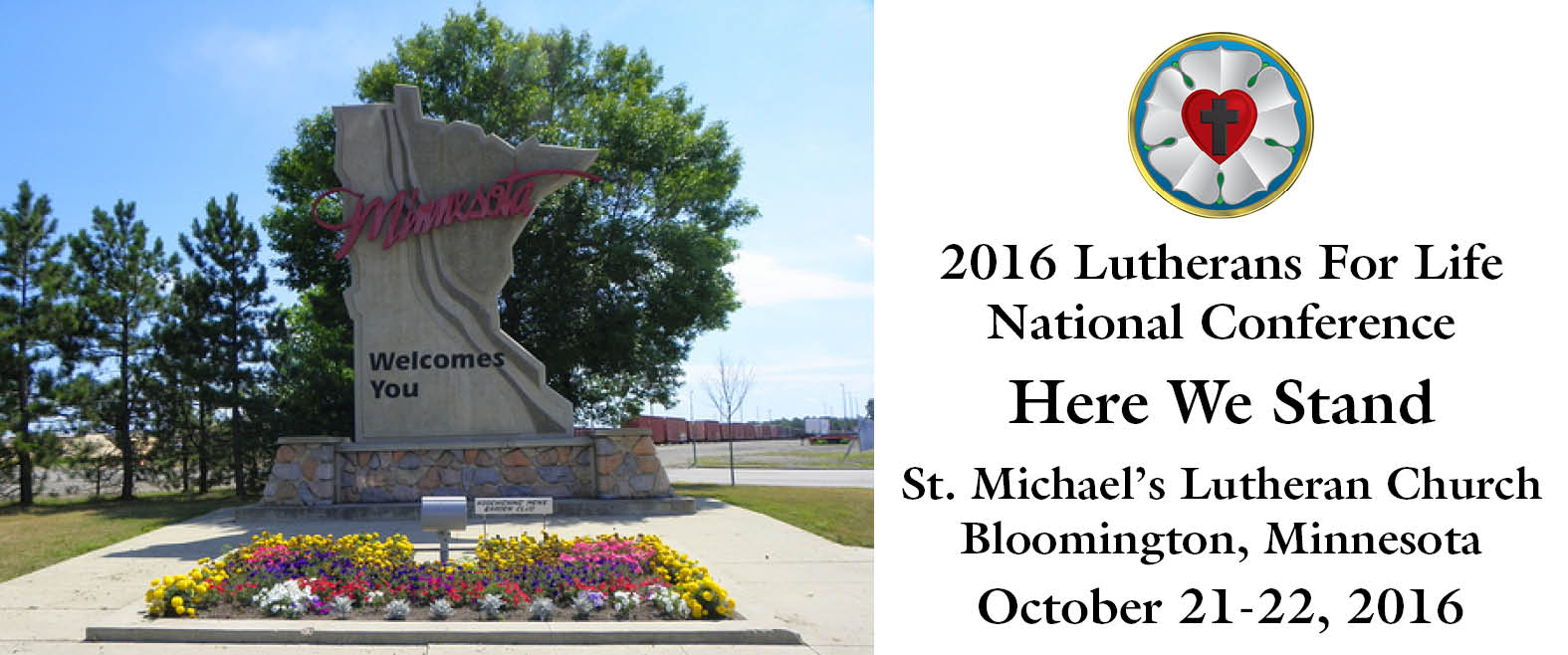 Join us for the 2016 Lutherans For Life National Conference!

"Therefore take up the whole armor of God, that you may be able to withstand in the evil day, and having done all, to stand firm" (Ephesians 6:13).

Scheduled speakers include:
Dr. Jean Garton, co-founder and President Emeritus of Lutherans For Life

Frank Runyeon, actor, on "Hollywood vs. Faith"

Jānis Diekonts with an update on Lutherans For Life of Latvia

Pastor Don Richman on "Eastern Europe and Russia – The Next Generation: To Kill or to Keep?"

Deaconess Kimberly Trombley on "Here We Stand: Welcoming People of All Abilities into the Church"

Barbara Lyons on "Threats to Lives of the Vulnerable From Assisted Suicide and Euthanasia"

Allen Quist on "Creation and What You May Not Know"

Stephenie Hovland on "Family For Life"

Rev. Doug Merkey on "Helping Your Church Stand For Life"

Laura Davis, Director of Y4Life on "Defusing the Tension: Revealing the Heart of the Abortion Debate"

Col. John Eidsmoe on "Preachers, Politics, and the Two Kingdoms: What Does the IRS Allow?"


Rev. Fredric Hinz on "Advocating for Life: Lutherans in the Public Square"

Dr. Sheila Page on "Legislation & Medical Perspectives on End of Life—How We Can Make a Difference"

Dr. Sheila Page on "Pain Perception in the Developing Human"

John Hawkins on "Giving 'Unusual' Gifts to Ministry"

Rev. Michael W. Salemink, Executive Director of Lutherans For Life

Heather Salemink with a workshop on children's life activities, games, stories, and more

Betty McGuire with a tour of the City Life Center in Minneapolis, which will include a prayer walk past a nearby abortion facility and through the neighborhood


Audio: Virginia J. Flo, Regional Director of Minnesota for Lutherans For Life (LFL) and National Conference Director spoke to Andy Bates of KFUO Radio on "His Time" about the 2016 Lutherans for Life National Conference

Pre-Conference Events
Friday, October 21
Pastor's Luncheon with Col. John Eidsmoe – "Yes, I know Luther spoke of Two Kingdoms and I need to educate my people on their responsibilities to the Kingdom of the Left. But if I mention politics, the IRS will yank our tax exemption—won't they?" May we influence elections? May we influence legislation? What does the IRS allow, and what does the IRS prohibit? And is there a time when we must obey God rather than men?
12:00 p.m. – 1:30 p.m.
Workshop: Helping Your Church Stand for Life with Rev. Doug Merkey – How do I equip my congregation to get more involved in life issues? What is a "Life Team," and how can I form one? How can Life Team training help my Life Chapter? How do we keep going when the going gets tough in life ministry? Get extremely practical, field-tested, Gospel-centered answers to these and similar questions at this valuable workshop. It's ideal for anyone who wants to see their church more consistently and robustly enjoying and expressing the Gospel in the life arena.
2:00 p.m. – 3:00 p.m.
Workshop: Giving "Unusual" Gifts to Ministry with John Hawkins – When it comes to making either a current or planned gift to ministry, donating cash usually comes to mind first followed by other common assets, such as securities, real estate, etc. But are there some "other" things that can be contributed—especially through your estate—that would prove to be beneficial to a donor and/or the receiving ministry? In this session, John will look at some different types of assets which aren't donated every day but which, nevertheless, ministry friends may want to consider as part of their giving plans.
3:00 p.m. – 4:00 p.m.
Tour: City Life Center with Betty McGuire, Executive Director – The City Life Center is a multi-faceted, pro-life ministry located in Minneapolis in the most diverse neighborhood in the United States, with over 100 different languages spoken in a two-mile radius. We will tour the City Life Center's turn-of-the-century, converted three-story brick home and the two-story brick carriage house. After touring the center and learning about their ministry, staff will guide us on a square-block prayer walk past a local abortion facility and through the neighborhood where many live who regularly meet at the City Life Center for prayer and Bible study.
Leave church 1:30 p.m./Return 4:00 p.m. - NOTE: Due to limited space, we ask only people who have not visited the City Life Center to sign up for this servant event.
Registration Fees
Adult registration (Early Bird) – $100

Adult registration (after 9/28/16) – $125

Friday only – $40

Saturday only – $75

Student registration* – $50

Child registration (6-12) – $30

Child 5 and under** – no charge
*Student financial assistance available
**Children 5 and under are admitted free, but please include them when registering.

Make Your Own Hotel Reservations
Where:
La Quinta Inn – Minneapolis Bloomington W
5151 American Blvd West
Bloomington, MN 55437
How: Call 952.830.1300 or 800.SLEEPLQ by September 28, 2016, to reserve and guarantee your guest room. You will need to guarantee your room with a credit card. Be sure to ask for the Lutherans For Life National Conference discount. The room rate is $79 per night plus taxes.
Conference sponsorship!
Instead of placing "ads" in a conference book, sponsorship donations will be listed and acknowledged in the conference information folder.
Sponsorship levels are:
Bronze - $50

Silver - $100

Gold - $250

Platinum - $500
Sponsorships may be given in honor or memory of someone or an event.
NOTE: Exhibit/table space is limited. Please submit your request and we will respond regarding availability. Questions? Contact National Conference Director Virginia Flo at
More on past conferences:

Comments from past conferences:
"So much practical, inspiring information we can use to provide confidence in sharing the pro-life message."
"This was the first time I was able to attend a national conference and I was very favorably impressed!!"
"Just outstanding—Loved the fun with Kay Meyer and Dr. Lamb … Truly edifying content and speakers. I feel like I got a semester's worth of knowledge in a day."
"This conference was excellent … Thanks for all the planning and thought put into this conference. Well done."
"It was my first time in attendance at a national LFL conference. How wonderful to know that we have Christian people with such a wealth of knowledge on these important matters."
"Thank you, Lutherans For Life, for another good conference. Thank you for all your efforts and your faithful stewardship of our donations. Thank you, Dr. Lamb, for your sermon the first evening."
"The conference was very informative and not only did I learn new ideas, I made new friends."
"This was my very first conference. I have been telling everyone how wonderful it was."
"Thank you for your work on the conference. It was my first one and I was glad I attended. It was informative and inspiring."
"Great inspirational weekend."
"I was moved by the dedication of those present to champion LIFE and to give God the Glory. The workshops were informative and helpful. It was worthwhile!!!!"