2013 National LFL Conference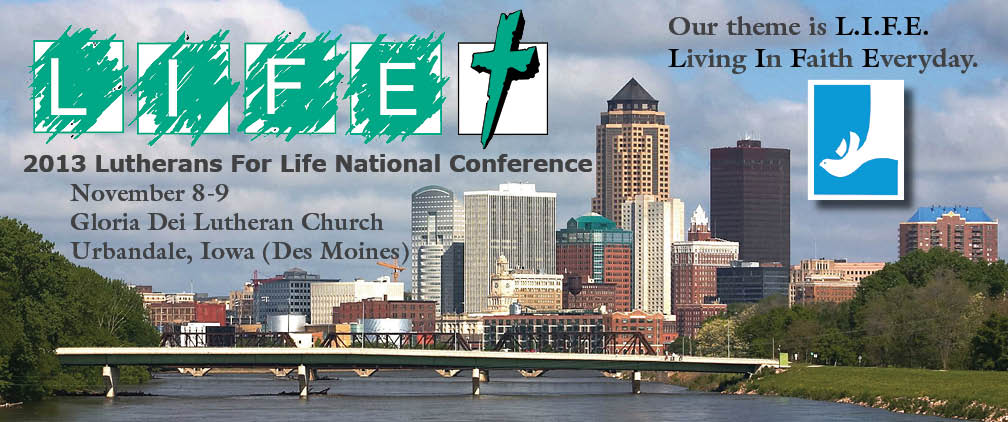 L.I.F.E. - 2013 Lutherans For Life National Conference
LFL National Conference: Speak out, share God's love on life issues by Paula Schlueter Ross
THANK YOU! to everyone who joined us at and helped with the 2013 Lutherans For Life National Conference! We pray that those who attended were blessed--and challenged--by the speakers and workshops. We pray too that the conference was helpful and uplifting as we all go about L.I.F.E. - Living In Faith Everyday.
We say a special thanks to the staff and members of Gloria Dei Lutheran Church for their help and hospitality!
To order audio CDs/flash drives of the plenary sessions, worship service, and workshops, contact Dicobe Media at 800.999.3381 or . You can also listen and watch online--see links below.
2013 Lutherans For Life National Conference Photo Gallery
2013 Lutherans For Life National Conference Booklet
2013 LFL National Conference Plenary Sessions, Workshops, Pastors' Luncheon, and Worship Service:
Thank You to the Conference Committees …
Hospitality – Lavonne Fernatt

Speaker Gift Bags – Black Hawk LFL Chapter #114

Publicity – Karen Frohwein

Registration – Pam Krog; Janet Askew

Decorations – State Center LFL chapter #118; St. John Ladies Aid, State Center, Iowa

Sponsorship Promotion – Karen Frohwein

Workshop Coordinator – Linda Bartlett; Karen Frohwein

Worship Coordinator – Rev. Rich Salcido

Dessert Reception – LFL of Iowa Board of Directors

Photographer – Lowell Highby
Thank You to Our Conference Exhibitors …
Thank You to Our Conference Sponsors …
Platinum Level
Gold Level
Greater Grand Rapids Michigan Lutherans For Life chapter #061

Rich and Laura Greiner

Johnson County Lutherans For Life #278 – In memory of Dr. Eugene Pierce

Walter & Geraldine Licht

Linn Area Lutherans For Life Chapter #072

Lutherans For Life of Michigan – In honor of Connie Davis, LFL of Michigan President

Lutherans For Life of South Dakota – In honor of Pastor Robert Moeller for his service to LFL of South Dakota

Rodney & Marilyn Meyer – In honor of our five beautiful great-grandchildren

Carl & Diane Schroeder

Margaret Speers – In memory of Linden Speers

Marie Waddingham – In memory of David Waddingham

West Saint Louis County Lutherans For Life Chapter #192

Zion Lutheran Church LWML – Ogden, Iowa
Silver Level
Carver Lifelines Lutherans For Life chapter #096

Ben & Jamie Clausing

Columbus Nebraska Area Lutherans For Life chapter #095 – In memory of Owen Lamb

Jeff & Renee Gibbs

Leon & Sharon Harms – Sponsorship of Conference meals

Jefferson County Missouri Lutherans For Life chapter #180

Mr. and Mrs. David Koenen

Myrtis Kuhlman – In memory of Caryl Kuhlman

Lincoln (Nebraska) Area Lutherans For Life chapter #184

Lutherans For Life of Kansas – In memory of Don Kohls

Lutherans For Life of Montana

Marcene Niehaus

Norfolk Area Lutherans For Life Chapter #195

North Central Indiana Lutherans For Life Chapter #186

Dale & Kris Olson

Peace Lutheran Church – Columbus, Nebraska

Peoria Area Lutherans For Life Chapter #268 – In memory of Alan Jass, Past President of Peoria Area LFL

Saint John Lutheran Church Ladies Aid – State Center, Iowa

Saint Paul Lutheran Church – Eldora, Iowa

Salem Lutherans For Life Chapter #246 – In memory of all pre-born babies lost in 2013

Southeast Nebraska Lutherans For Life Chapter #125 – In memory of Mary Suedemier

Springfield (Missouri) Lutherans For Life Chapter #090

Dave & Edna Walker

Luella Weber – In thanksgiving for answered prayer

Jim & Wanda Wold
Bronze Level
Robert & Jean Amundson

Darwin & Donna Anderson

Allan & Linda Armbrecht

Bishop's Pro-Life CDAC

Black Hawk Lutherans For Life Chapter #114

Lyle Coon

Bertina Eckman

Four-S Lutherans For Life Chapter #034

Paula Haase

Earl & JoAnne Isler

Edward & Kandi Kotz

Jeanne Mackay – In memory of my sister, father, & grandparents

Rev. Evan McClanahan

Rev. Richard Merrill

Dorothea O'Kelly

Peace Lutheran Church LWML – Columbus, Nebraska

Darcy & Mary Lou Peterson – In memory of Eleanor Miller

Myron Pingel

Saint Mary Lutheran Church – Des Moines, Iowa

Saint Paul Lydia Circle – Fredericksburg, Iowa

Seward Area Lutherans For Life chapter #041

Ethel Tietje

Rev. Bruce & Mary Zimmermann – In honor of Richard, William, Samuel, Sophie, & Brecken