2016 Lutherans For Life National Conference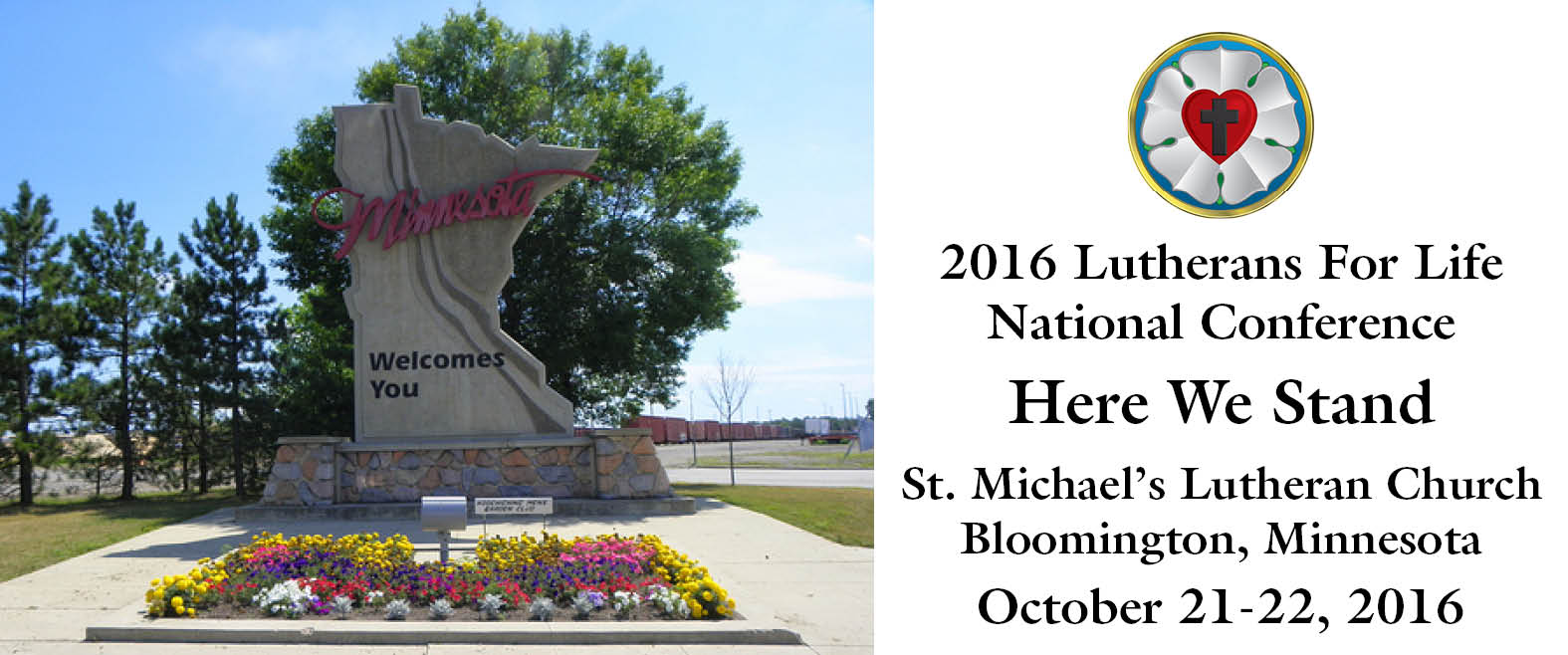 2016 LFL National Conference Booklet
Over 200 Lutherans gathered October 21-22 at St. Michael's Lutheran Church in Bloomington, Minnesota, from across the United States, Canada, and Latvia, for the 2016 Lutherans For Life National Conference. The theme: Here We Stand.
In her welcome to the conference, LFL President Lynette Auch said, "Could there possibly be a more appropriate conference theme than 'Here We Stand' as we step into the 500th anniversary year of the Reformation or a more appropriate verse than Ephesians 6:13: 'Therefore take up the whole armor of God, that you may be able to withstand in the evil day, and having done all, to stand firm'? There is no doubt that the days are evil and 'every one of us is in need of the righteousness that God gives freely by His grace to people who don't have righteousness of their own,' as [Martin] Luther came to understand. We need to put on the whole armor of God to stand firm in that faith … So, let us say yes to the opportunities before us that God has prepared for us to do! To say 'Here We Stand' … in defense and protection of the precious and vulnerable human lives that are the handiwork of God from the moment of conception to natural death … to teach our children and grandchildren who they are and WHOSE they are. Scripture reminds us that we are NOT our own … in defense of marriage as God designed it between one man and one woman and sex as a gift from God to be shared within the marriage bed only … Your presence here means that you support the life-affirming ministry of Lutherans For Life. May God bless you and challenge you as 'Here We Stand' For Life!"
Focusing on the conference theme in his opening worship service sermon, Rev. Michael W. Salemink, executive director of Lutherans For Life, said, "You cannot slip beyond the reaches of the long arm of the Lord God Almighty … We carry grief so heavy and guilt so haunting that we believe it a freedom to end our own lives. We haul fear so chilling and failure so choking that we tolerate terminating our sons and daughters and advocate euthanizing our mothers and fathers. We hold hearts so broken and divided that we accept lust rather than aspire to love. We drag underbellies so vulnerable and blind sides so exposed that we separate children from marriage. We lug spines so stiffened and skin so hardened that we settle for human rights instead of insisting on heaven's gifts … We should know better … We all require armor, a Savior, deliverance, redemption. We all crave compassion, forgiveness, mercy, grace. Here we stand. We do not stand alone. We never stand alone. You do not get to stand alone, but you do not have to stand alone. Another One stands in your place … Jesus Christ is the armor of God, the whole armor of God, for you and for us all. He shelters, sustains, protects, and defends any who have not and cannot do so for ourselves … Here we stand, neither stampeding nor strutting. Here we stand in joy and not out of anger, in hope and not out of fear, because we stand to forgive and not compare, to save and not compete. Here we stand to relieve and release, not to accuse. Here we stand to listen, assist, accompany, embrace, and befriend, not to attack. Here we stand speaking truth and sharing love because we stand overcoming sin and selfishness, death and the devil, and not against one another. Here we stand firm but gentle, strong but humble, even after so long and before such odds. Here we stand, Gospel-motivated voices, Lutherans For Life, because we can do no other, God help us."
In his keynote address, actor Frank Runyeon, who starred opposite Meg Ryan on the CBS soap opera As the World Turns and has appeared in more than 1,000 television episodes and movies along with hosting his own comedy radio show, spoke on "Hollywood vs. Faith – The Struggle to Live Faithfully in the Media Age." He focused on some of the biggest "funhouse mirror" distortions that Hollywood presents as truth but which are, in reality, lies, including the idea that buying more and more things can make one happy and having the perfect body will bring contentment. He shared how it is very hard for the Church to share the Gospel message in a culture saturated with self-centeredness and indiscriminate sex and violence but encouraged Lutherans For Life to continue to reach out, stay faithful, and focus on the gift of positive relationships with each other and with God.
In her plenary address, co-founder and former president of Lutherans For Life, Dr. Jean Garton, said "I'm going to make sure I'm with the right group … If you read the media, they'll tell you that people who are 'anti-choice' are rabid, rigid, ranting, raging, radical rebels. But I know that you are patient, pious, peaceful, prayerful, passionate, patriots. That's you … The naysayers have tried to bury us many times. But the truth is that this great pro-life movement of which Lutherans For Life has been a part since the very beginning, this great movement is alive and well and growing. But with our public, persistent pursuit of protection for the unborn and now, increasingly, the 'long-born,' there is a price to pay—and no surprise about that. When Jesus sent out His disciples … He said He was sending them out like sheep among the wolves. And not much has changed … We need to be prepared for the incredible battle ahead." She thanked those in attendance for the "natural, needful work that all of you do."
Dr. Garton was also the recipient of the newly revived Dominus Vitae award now given to a Lutheran who has made notable and significant contributions to the For Life movement. In presenting the award, LFL President Lynette Auch said, "At 88 years of age, Dr. Garton still travels hundreds and thousands of miles from home for speaking engagements and has devoted 47 years of her life to the pro-life movement. Why? She is quoted as saying … 'I am always fishing for brothers and sisters in the faith that we might strengthen one another and share our joy in the Lord,' and because 'in the pro-life movement, I have the opportunity to meet the finest people throughout the world … I do what I do because I cannot NOT do it."
Pre-conference events included a pastors' luncheon featuring a talk by Col. John Eidsmoe on "Preachers, Politics, and the Two Kingdoms: What Does the IRS Allow?" as well as workshops on "Helping Your Church Stand For Life" with Rev. Doug Merkey and "Giving 'Unusual' Gifts to Ministry" with John Hawkins, and a tour of the City Life Center in Minneapolis.
(Editor's note: The City Life Center tour included a prayer walk past a local abortion facility. On the Sunday night after the conference, Callie Highby (10)—shown here with City Life Director Betty McGuire—read from The Story Bible, then read the prayer, and added, among other petitions, that "the abortion center would close … because we don't want any of Your children to die." Callie was on the City Life Tour.)
Other plenary speakers included Jānis Diekonts of LFL of Latvia and Rev. Don Richman, LFL's international representative, who spoke on what is happening in Russia and Latvia with life issues.
The two winners of the national essay contest sponsored by the Council of Federation Presidents (COFP) shared their winning essays on Friday night. Brooke Fandrich is an eighth grade student and member of St. John's Lutheran School and Church in Portage, Wisconsin. She is the daughter of David and Jessica Fandrich. Her essay was titled "Many Shapes and Sizes." Amanda Dressel is the high school category winner and is a sophomore at Watertown-Mayer High School. She is the daughter of Robert and Melanie Dressel and is a member of St. Paul's Lutheran Church in Watertown, Minnesota. Amanda's winning essay is titled "The Truth Behind Abortion of the Handicapped: What Our Society Isn't Seeing."
In 2017, Lutherans For Life will be having four regional conferences (instead of one national conference) in Ft. Wayne, Indiana; New Braunfels, Texas; Lincoln, Nebraska; and Pekin, Illinois. The next national conference will be in 2018. Watch for more details at a later date.
2017 Lutherans For Life Regional Conferences Video Invitation
**********
2016 LFL National Conference CD and Flash Drive Order Form
Audio
**********
Video
**********
A Special Thank You to …
The members of Carver Lifelines Life Chapter in Carver County just west of Minneapolis for helping with conference assignments.

The members of the Life Team at St. John's Lutheran Church in Corcoran, Minnesota, for assisting with conference duties.

The staff of St. Michael's Lutheran Church in Bloomington, Minnesota, for providing their beautiful facility and helping to make this year's conference exceptional with their special support in worship and music, facility management, technology support, food preparation and serving, and much more.

Rev. Steve Jones of Peace Lutheran Church, Robbinsdale, Minnesota, for serving as the liturgist during worship and conference chaplain.

The LaQuinta Hotel staff for making their accommodations for our travelers special.

Virginia Flo, LFL national conference director and regional director of Minnesota, for organizing the conference presenters, location, and conference schedule.

Lowell Highby, LFL director of communications, for promoting and communicating conference details to all of our LFL constituents.

Jerilyn Richard for maintaining all of the registration information and making sure we were up-to-date and able to stay current with increased interest and participation in this year's conference.

Debra Freese for her willingness to help wherever needed when our LFL members called the Life Center for help.

Rev. Michael Salemink, LFL executive director, for his leadership and dedication to For Life work and for his enthusiasm and desire to keep LFL's focus on the many important Life needs.

Frank Runyeon for being our keynote speaker at the Friday evening banquet and sharing his inspiring message.

Rev. Scott Licht, LFL national director, for his continued leadership and overall organizational vision, keeping the organization focused and encouraged.

Lynette Auch, our national LFL president, and the entire board of directors for their faithful leadership.

The LFL Council of Federation Presidents who keep LFL active and moving forward in our State Federations and the Frontline.

Our Life Teams and Life Chapters who work so diligently every day to affirm life in so many God-pleasing ways.

Our workshop presenters, John Hawkins and Rev. Doug Merkey, for giving us more insight into ministry gifts and life ministries.

Our workshop presenters—Allen Quist, Rev. Fredric Hinz, Dr. Sheila Page, Barbara Lyons, Stephenie Hovland, Laura Davis, and Deaconess Kimberly Trombley—for their dynamic presentations that are both important to the life issues and inspirational.

All of our LFL staff who took on many duties at the conference in order to make everyone's visit one to remember.

All of the exhibitors who make an investment in time and money to share their For Life work.

KFUO Radio in St. Louis, Missouri, for conducting numerous pre-conference interviews to promote the conference and inform their listeners of the For Life work conducted by Lutherans For Life.

Betty McGuire, executive director, and the staff at the City Life Center for their gracious hospitality in organizing and conducting the Friday servant event at their facility.
**********
Thank You to Our Conference Exhibitors …
**********
Thank You to Our Conference Exhibitors …

Platinum Level
Gary Lodholz
In memory of Laura Lodholz
Lois Lodholz
In memory of Laura Lodholz
Springfield LFL #090
LFL of Illinois
In honor of Genny Hertel
LFL of Nebraska
Rev. David Tews
In memory of his wife, Karen Tews
Gold Level
Good Shepherd Lutheran Church, Azle, Texas
Linn Area LFL #072, Marion, Iowa
Carver Lifelines LFL #096, Waconia, Minnesota
LFL of Michigan
LFL of Indiana
Lutherans For Life of Kansas
In honor of Dr. Jean Garton
Lutherans For Life of Wisconsin
Silver Level
Peoria Area LFL #268
Jay and Jeanne Mackay
In honor of Dr. Jean Garton
Salem Lutheran Church, Black Jack, Missouri
In honor of Pastor Adam Filipek and his life-affirming ministry at Salem
Black Hawk LFL #114
Greater Grand Rapids LFL #061
In honor of Miss Marion Friedrich
Philip and Sylvia Glenn
In memory of Mr. and Mrs. Hadley Linnenbringer
Johnson County Lutherans for Life #278
In memory of Dr. Eugene Pearce
Bronze Level
Four-S LFL #034
Seward Area LFL #041