A Pastor-to-Pastor Letter from Michael W. Salemink (2019)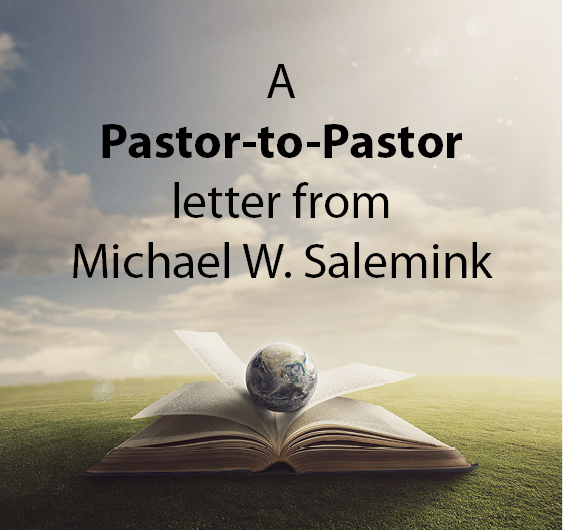 "Thank you for caring." "Please keep speaking." "God bless your ministry."
I'm delivering these messages from Lutherans across the country. They asked me to share them with you. I was able to gather with thousands of Gospel-motivated voices this summer. We visited the LWML National Convention, the LCMS Synodical Convention, the NALC Convocation, and the LCMC Annual Gathering. We also had a presence at the LCMS National Youth Gathering (NYG), the Free Lutheran Youth Convention (FLY), and two of the Higher Things youth conferences. They engaged us by the dozens—youth, parents, congregational leaders, professional church workers, widows, and grandpas. They came from your churches and from your communities.
Students brought questions and held conversations. They talked about the life issues—the spiritual concerns, the matters of the heart—that their friends and peers are facing, like surprise pregnancy, abortion advocacy, sexuality, and suicide. They took the informational booklets and brochures that we set out. They attended our educational presentations in such droves that we had to add extra sessions—and we still didn't have room to accommodate them all. Your students love to hear how God creates, redeems, and calls every human life as His own precious treasure.
Please keep speaking!
Parents shared their smiles and their tears. They told the stories of their preemies and their miscarriages. We looked at their pictures of foster sons, adopted daughters, and gestating grandkids. We witnessed them cradling our fetal models and placing them into the hands of their own little ones. We watched them linger fifteen minutes, lamenting the culture around them that uses death as a solution to suffering. Others spent half an hour rejoicing that no one's age, appearance, or ability can impair the worth and purpose God gives our whole race. Your parishioners rejoice in the courage and compassion from God's Word for our life-and-death circumstances.
Please keep speaking!
Many, many expressed their profound gratefulness. They beamed about how their pastors—that's you!—speak the truth in love. They bragged that their ministers name abortion a sin and declare physician-assisted suicide evil. They boasted of you withholding nothing of God's grace that works a better way through the greatest difficulties and afflictions. We learned that you give them a word from the Lord—a good Word—for situations when we can only see darkness, despair, and death. We heard that you explain our Almighty Maker values the lives of the least of these—the unborn ones, the elderly ones, individuals living with disability, or those in a Petri dish—just as much as the rest of us. They articulated exactly what you instructed, that the Heavenly Father's forgiveness applies also to violence against life, that Christ's compassion relieves from the grief of participating in it, and His sacrifice covers over the guilt of promoting it. Your members deeply appreciate your faithful servanthood.
Please keep speaking!
And some of them confessed regret. "I prayed for a sign. I needed God to make a statement. I wish my pastor would have said something." Several recounted the child that they aborted. A number mourned the embryos that they abandoned to experimentation or disposal. Not a few repented the deaths of aging loved ones that they hastened in ignorance. They divulged the sorrow and remorse they've borne silently and secretly for decades. They wondered why they never got their pastor's guidance. They disclosed their disappointment that their congregation never connected the truth and love of Jesus Christ to their life issues. They objected to categorizing these predicaments as too personal, too political, too controversial, too uncomfortable or offensive. They longed to have the Gospel proclaimed specifically to their hearts and explicitly to their hurts.
Please keep speaking!
"Blessed be the God and Father of our Lord Jesus Christ, the Father of mercies and God of all comfort, who comforts us in all our affliction, so that we may be able to comfort those who are in any affliction, with the comfort with which we ourselves are comforted by God" (2 Corinthians 1:3-4).
God of ALL comfort, for ANY affliction! Your ministry gives this consolation. Your sacred vocation changes hearts and saves lives. Our nationwide network has the delight of hearing about it every day. You don't just have something to say; you have the best word and the last word! "[S]o shall my word be that goes out from my mouth; it shall not return to me empty, but it shall accomplish that which I purpose, and shall succeed in the thing for which I sent it" (Isaiah 55:11). The Lord who called and ordained you in His Holy Spirit retains responsibility for the results of His message, whether reception or rejection.
Preach it gently, but relentlessly. Teach it patiently, but persistently.
We've prepared some resources to assist you. Check out our 2020 Life Sunday worship materials. They follow the theme of "Did God Really Say … ?" from Genesis 3:1 and John 6:68, "Lord, to whom shall we go? You have the words of eternal [LIFE]"! You will find bulletin inserts, Bible study and leader's guide, order of service, children's message, and model sermon manuscripts free of charge at www.lutheransforlife.org/store-life-sunday-2020. And we place ourselves and our entire organization at your service for consultation, encouragement, and education—whenever, wherever, and however you need.
We cannot overstate our gratitude for your fellowship. The generous offerings of congregations like yours have helped us reach and touch over 200,000 people this year (our fortieth!). We eagerly look forward to future opportunities for communication and collaboration with you.
Thank you for caring. Thank you especially for your Gospel-motivated voice For Life. And God bless your ministry!