The Need Is Great, Now's the Time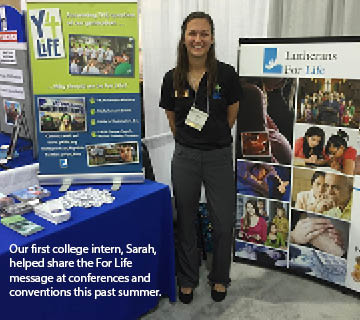 Now's our chance!
Life's sanctity is seismically shifting our culture. More than 40 years of grace and truth are nearing critical mass. The message of every human being's preciousness is wobbling windows and walls and storming doors and floors throughout death's most secure strongholds. Rather than silencing the earthquake set in motion by God's crucified love and resurrected salvation, society's trembling selfishness has only allowed the Gospel of Jesus Christ to amplify. This whole land is seeing how the value He gives to all persons—by creating, redeeming, calling, and connecting us—is snowballing its most skeptical opponents.
States are honoring marginalized lives with their laws:
In 19 states lawmakers resisted extremist pressure to allow physician-assisted suicide (and five more states will have done so by end of the legislative session), and New Mexico's Supreme Court affirmed killing a terminally ill patient isn't a "fundamental right" even with consent.

334 life-affirming regulations have taken effect in the last five years, reducing annual unborn deaths by 500,000 and leading to widespread facility closures.

23 states have filed suit against federal threats to withhold funding from schools that distinguish bathroom use by birth gender.
Students—the leaders of the future—are enthusiastically celebrating endangered lives:
Students for Life campus groups now outnumber their Planned Parenthood counterparts by 1,043 to 275 (almost four to one!).

53% of young adults oppose abortion on demand, an increase of nine points in only four years, and less than half support public funding for Planned Parenthood.

Less than half of high school students surveyed report being sexually active, which is 13% fewer than 25 years ago, and the number of abstinent young adult men has doubled (women tripled!) since the 1960s.
Almighty God is moving His hand! Lord Jesus Christ is accomplishing His mission in us! Not only has He made this message of ours important, but He is making our work effective as well! Seize this opportunity with us and sustain the intensity with a special financial gift to Lutherans For Life. You are investing directly in heaven's own treasury of changed hearts and saved lives. Together let us show our joy and gratitude at being forgiven, relieved, and delivered by lovingly sharing our Father's forgiveness, relief, and deliverance with our neighbors.
The Need Is Great, Now's the Time
Indeed, we dare not let up. We'd better not delay or hesitate. Our labors must remain unrelenting. Evil and the devil are not stalling. Deception and death will not decelerate:
The United Nations is exploiting the Zika virus to urge abortion in countries where it's currently illegal.

Studies report persons in same-sex marriages commit suicide three times more often than others.

National Institutes of Health may fund injecting animal embryos with human stem cells.

Use of abortion-causing LARC devices (long-acting reversible contraceptives) is rising.
U.S. Supreme Court ruled women's health concerns place "undue burden" on abortion access.

Those raised by same-sex parents suffer twice as much depression and abuse as those from traditional families.

State governments have begun forcing doctors and pregnancy centers to promote abortion services.

Teens attending schools that distribute condoms get pregnant (and contract STDs) more frequently than teens attending schools that promote abstinence.
Suffering people are buying the lie that sometimes death offers the only solutions. Someone you know, somebody you love, needs us. They need the same Jesus we can't live without. God's love and Christ's forgiveness CAN and WILL rescue them. Lutherans For Life reaches and touches so many of them with the life-giving Gospel. It will take us $981,000 to meet such needs nationwide this year. We have $459,000 so far. (That's less than half!) Please send a gift today so that you can keep being our heart, and we'll keep being your voice. Together we bring the body of Christ—the feet and fingers of Father, Son, and Spirit Himself—to these desperate ones.
Lutherans at the Epicenter
Gifts like yours have enabled us to apply God's Word right to the pressure points. Our resources and services intersect your community—and hundreds of others—where death pounds fiercest. Rather than ignoring altogether or observing from a distance, Lutherans For Life takes God's fight and Christ's victory to all the ground zeroes:
Join us! Jump in! Visit the website and find and follow us on Facebook, Twitter, Instagram, YouTube, and Vimeo to see the pictures and get all the scoops. Drop us a line and find out what we can do for you, or let us know what Lutherans For Life means to you. I'm looking forward to your gift and your partnership!
We've been receiving frequent reports of how our Gospel conversations are rescuing and protecting lives. I humbly but boldly ask you to help us gather the remaining $522,000 necessary to continue this vital ministry. Our God magnifies it and multiplies it into His miracles, so feel confident giving generously!