Conference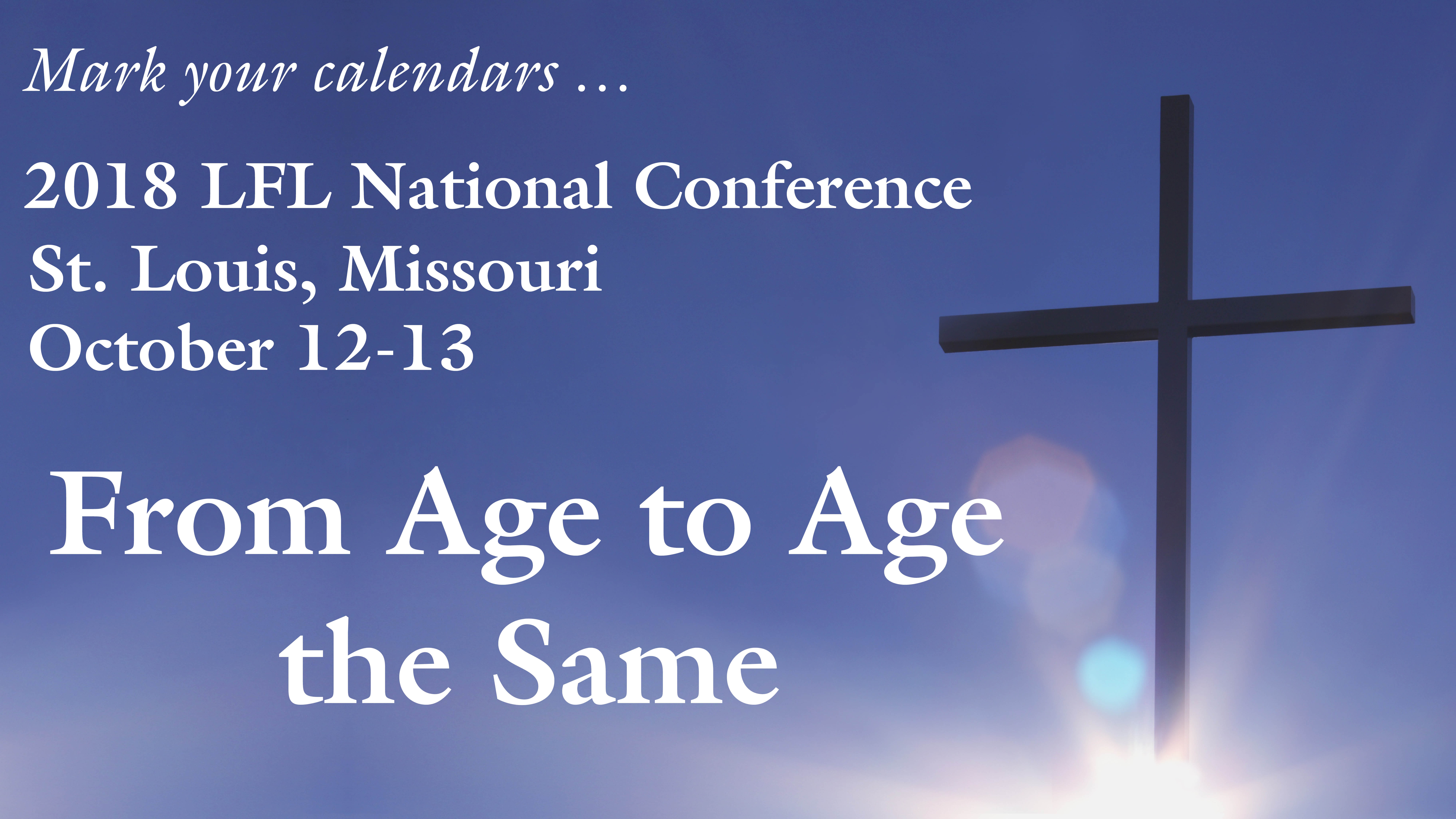 2018 LFL National Conference • St. Louis, Missouri • October 12-13
Conference Location:
You "have been borne by me from before your birth, carried from the womb; even to your old age I am he, and to gray hairs I will carry you. I have made, and I will bear; I will carry and will save" (Isaiah 46:3b-4).
Our Lord and Savior remains the same from eternity unto eternity through all changes in human history and individual experiences—including our sinfulness;
Human sanctity and dignity are the same—that is, infinite—from the invisible miracle of conception to the moment of natural death, through all states and stages of a person's life; and
Lutherans For Life, celebrating 40 years of being a voice For Life, is still motivated by the same Gospel courage and compassion to speak truth and show love, respecting and protecting every human being as a treasure and privilege from God our Father.
Rev. Dr. Dale Meyer

Rev. Dr. Sam Nafzger

Rev. Dr. James I. Lamb

Rev. Ed Fehskens III

Rev. Michael Newman

Rev. Chris Wheatley

Laura Davis

Deaconess Rachel Geraci

Brian Young

Rev. Michael Salemink

Rev. Rory Karg

Rev. Fredric Hinz

Deaconess Dr. Chrissie Gillet

Lynette Auch

Dr. Cara Buskmiller

Rev. Michael Dobler

Rev. Todd Kollbaum

Mona Fuerstenau
More on past conferences:
2017 LFL Regional Conferences - Hope For Life
2016 LFL National Conference - Here We Stand
2015 LFL National Conference - Created • Redeemed • Called
2014 LFL National Conference - Matters of the Heart
2013 LFL National Conference - L.I.F.E. - Living In Faith Everyday
2012 LFL National Conference - Equipping the Saints For Life
2011 LFL National Conference - Adopted In Christ
2010 LFL National Conference - Bringing Good News to Life
2009 LFL National Conference - Celebrating the Abundant Life
Comments from past conferences:
"To God be the honor and praise and thank you for the opportunity to be among those attending the convention in Bloomington, Minnesota, on Saturday, October 22nd—encouraging one another for serving together. May a helpful and tangible difference be made in the lives of families and individuals in the nation; its rural areas, towns and cities; and elsewhere around the world. Grace, strength, faith, hope, and love from the Lord to each and all."
"So much practical, inspiring information we can use to provide confidence in sharing the pro-life message."
"This was the first time I was able to attend a national conference, and I was very favorably impressed!!"
"This conference was excellent … Thanks for all the planning and thought put into this conference. Well done."
"It was my first time in attendance at a national LFL conference. How wonderful to know that we have Christian people with such a wealth of knowledge on these important matters."
"The conference was very informative and not only did I learn new ideas, I made new friends."
"This was my very first conference. I have been telling everyone how wonderful it was."
"Thank you for your work on the conference. It was my first one and I was glad I attended. It was informative and inspiring."
"Great inspirational weekend."
"I was moved by the dedication of those present to champion LIFE and to give God the glory. The workshops were informative and helpful. It was worthwhile!!!!"