Conference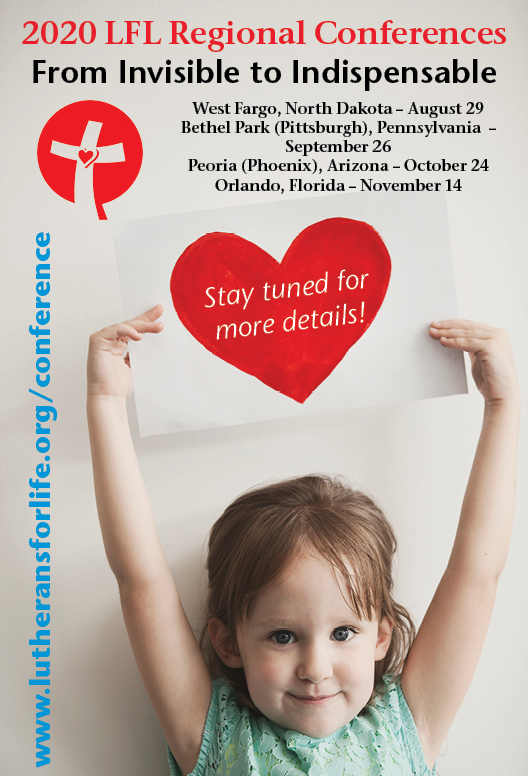 2020 Lutherans For Life Regional Conferences
August 29
St. Andrew Lutheran Church
1005 First St.
West Fargo, ND 58078
September 26
Ruthfred Free Lutheran Church
3401 S. Park Rd.
Bethel Park (Pittsburgh), PA 15102
October 24
Life in Christ Lutheran Church
14802 N. 75th Ave.
Peoria (Phoenix), AZ 85381
November 14
Prince of Peace Lutheran Church
1515 S. Semoran Blvd
Orlando, FL 32807
"On the contrary, the parts of the body that seem to be weaker are indispensable …" (1 Corinthians 12:22 ESV)
---
---
More on past conferences:
2019 LFL Regional Conferences – "Did God Really Say … ?":
Our Lutherans For Life Regional Conferences for 2019 have concluded, and we are extremely pleased with the results. We found ourselves all across the country engaging with many LFL friends and finding many new ones. There are so many people who support life, and it is a joy to be able to come to your neighborhoods and share encouragement and information in order to assist you in your life-affirming work. Lives are being touched every day when people share the For Life message of God's love for life.
We want to especially thank the members and staff at Living Word Lutheran Church, Grapevine, Texas; Concordia University, Ann Arbor, Michigan; Hope Lutheran Church, Aurora, Colorado; Trinity Lutheran Church, Rochester, Minnesota; Trinity Lutheran Church, Joppa, Maryland; and West Portal Lutheran Church, San Francisco, California, who opened their doors and hearts for our regional conferences. What a joy it was to work with the members of these congregations and our local Life Chapters and Life Teams. The Lord blessed the efforts of these faithful stewards For Life, and we at LFL are so very appreciative as without them these conferences would not be possible.
If you were not able to attend a conference in 2019, please seriously consider joining us in 2020 as we again visit different parts of our country with the For Life Gospel message.
2018 LFL National Conference - From Age to Age the Same
2017 LFL Regional Conferences - Hope For Life
2016 LFL National Conference - Here We Stand
2015 LFL National Conference - Created • Redeemed • Called
2014 LFL National Conference - Matters of the Heart
2013 LFL National Conference - L.I.F.E. - Living In Faith Everyday
2012 LFL National Conference - Equipping the Saints For Life
2011 LFL National Conference - Adopted In Christ
2010 LFL National Conference - Bringing Good News to Life
2009 LFL National Conference - Celebrating the Abundant Life
Comments from past conferences:
"To God be the honor and praise and thank you for the opportunity to be among those attending the convention in Bloomington, Minnesota, on Saturday, October 22nd—encouraging one another for serving together. May a helpful and tangible difference be made in the lives of families and individuals in the nation; its rural areas, towns and cities; and elsewhere around the world. Grace, strength, faith, hope, and love from the Lord to each and all."
"So much practical, inspiring information we can use to provide confidence in sharing the pro-life message."
"This was the first time I was able to attend a national conference, and I was very favorably impressed!!"
"This conference was excellent … Thanks for all the planning and thought put into this conference. Well done."
"It was my first time in attendance at a national LFL conference. How wonderful to know that we have Christian people with such a wealth of knowledge on these important matters."
"The conference was very informative and not only did I learn new ideas, I made new friends."
"This was my very first conference. I have been telling everyone how wonderful it was."
"Thank you for your work on the conference. It was my first one and I was glad I attended. It was informative and inspiring."
"Great inspirational weekend."
"I was moved by the dedication of those present to champion LIFE and to give God the glory. The workshops were informative and helpful. It was worthwhile!!!!"