Give
Dear Friend of Life,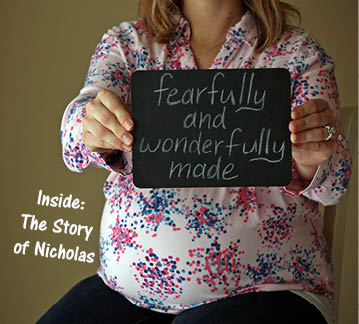 "His tail swept down a third of the stars of heaven and cast them to the earth. And the dragon stood before the woman who was about to give birth, so that when she bore her child he might devour it" (Revelation 12:4).
The demons are laughing.
Officials expelled a life-affirming community from the county fair this summer. The community known as "Life" had received prior approval for their display. It featured photos of babies growing in the womb and medically accurate hands-on fetal models (just like the ones many Lutherans For Life Teams and Chapters use). Volunteers at the booth were offering friendly and uplifting conversation about pregnancy and parenting. Most of their visitors appreciated the positive and compassionate outreach.
Then a few evening passersby became "aggressively vocal"—about abortion. When Life staff arrived the next morning, authorities had torn the stand down. One local councilman said, "It's a community festival—that includes women who have had to make really hard family-planning decisions who don't want plastic fetuses in their faces." Life's education director stressed that their presence is gentle, and their message is never aggressive. They just want to help women, but fair organizers claim it goes against their values ("Government-Run Fair Kicks Out Pro-Life Group," LifeNews.com, 7/23/18).
And the demons are laughing. They've deceived the world into believing death offers a solution to suffering. They've convinced our culture that life issues mean anger and guilt. They've captured hearts and clouded minds with fear.
You can change that. You can do something about it.
Did you know that the angels are dancing? The demons are laughing, but the angels are dancing. The angels are dancing because Almighty God still shares grace. The Heavenly Father still holds human beings precious, all of them. Our Lord and Savior still finds human lives special, every one of us.
You can't shut the demons up. But you can drown them out.
Will you help us reach grieving, lonely hearts with the joy that is louder than officials or fear? Will you help us touch frightened, threatened lives with the hope that is bolder than authorities or anger?
There are many ways you can support LFL!
Online
You will have several membership and donation options (including automatic monthly credit card donations).
All About Membership in Lutherans For Life
If you prefer, you may also call 888.364.LIFE to contribute by credit card. (Automatic monthly credit card donations are available.)
Automatic Monthly Debit from Your Checking or Savings Account (ACH)
Download ACH Contribution Form
By mail
Please send your check, made payable to "Lutherans For Life," to:
Lutherans For Life
1101 5th Street
Nevada, IA 50201-1816
Other Ways to Give Now
Owen's Mission is a very special project of Lutherans For Life. The goal of this project is to honor Jesus by presenting a set of Touch of Life fetal models to every Lutheran elementary and high school in the country. (That's 1078 schools affecting 139,000 students!) We want students to understand the God-given value of each life from the moment of conception. We want students to be motivated by what God has done as our Creator, Redeemer, and Sanctifier that gives value to life. We want students to value themselves and to value others as persons because of this God-given value.
Abundant Life Giving Society - The Abundant Life Giving Society recognizes individuals, families, congregations, church groups, and businesses that donate $1,000 or more annually to support the mission of Lutherans For Life.
Life Legacy Society - The Life Legacy Society is our way of recognizing dedicated donors who help LFL share the Life message. There are several gift-giving opportunities that allow you to make a lasting impact on LFL.
Real Estate for Life makes it easy for you to help Lutherans For Life by using funds a real estate company has already earmarked for commission fees at no extra cost to you.
Wish List - Most of these items are not included in our annual budget. Please prayerfully consider how you could support one of the projects. A gift of any amount is welcome. We also encourage you to organize a fund raising project with your Bible study, state federation, chapter, Life Team, or another group from your congregation to assist us.
Combined Federal Campaign (for federal employees and military personnel)
The CFC identification number for LFL is 11508.
GoodSearch - Search online and support Lutherans For Life!
iGive.com (shop online and support Lutherans For Life!)
LFL Endowment Fund - The interest income from LFL's Endowment Fund will be used to educate through printed and published materials, production of videos, and provision of speakers; to provide scholarships to pastors and lay people in order to attend LFL conventions; to help advance our use of technological opportunities through audio-visual equipment, computers and the internet; and to reach out through Word of Hope to women and families after an abortion with the hope of Jesus Christ. You are free to specify a particular area of outreach.
Planned Gifts and Estate Planning - The work of Lutherans For Life—equipping Lutherans to be Gospel-motivated voices For Life—can be helped through various planned gifts, life-income agreements, endowments and memorial funds.
Special Offering Bulletin Insert
Bulletin insert - Special Offering Bulletin Insert with text box - (offering this month)
Bulletin insert - Special Offering Bulletin Insert with text box - (offering today)
Downloadable Informational Flyer
Flyer - You Can Make a Difference
LFL Financial Information
GuideStar (report includes most recent 990 -- you will need to register)
Additional Resources:
Christian Preamble - Include a Statement of Faith In Your Will or Trust (LCMS Foundation)
5 Myths About Wills, and What You Should Do (USA Today)
Thank You!
Thank you for your ongoing and often sacrificial support of Lutherans For Life! Your prayers, volunteer efforts, and financial support allow Lutherans For Life to continue to Bring the Good News For Life to children, youth, and adults. You are examples of Christ's love in action. Your partnership with Lutherans For Life is needed today more than ever before.
Lutherans For Life thanks all those who have given 2017 Donations in Loving Memory
Lutherans For Life thanks all those who given 2017 Donations in Honor of
2017 Congregational Donor Honor Roll - LFL is very grateful to the following congregations for their financial support in 2017. To God be the Glory!
2017 Congregational - Auxiliaries - Organizations Donor Honor Roll