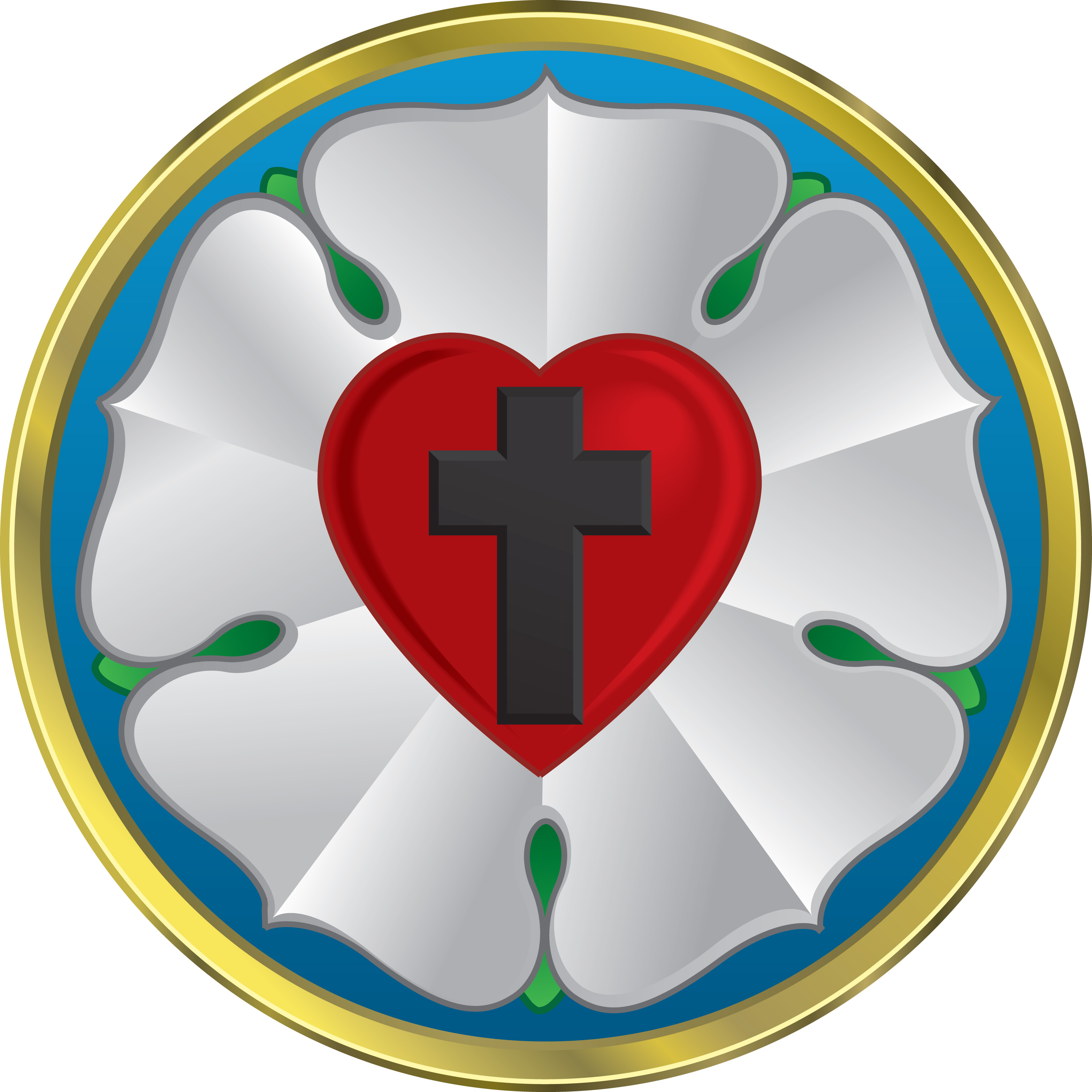 God placed Martin Luther in exactly the right place at the right time. Born into a Christian country and culture that had become corrupt and had strayed from the orthodox Word of God, he was called to boldly proclaim the truth of God's Law and Gospel. God blessed him with the intellectual gifts to translate the Bible into the language of the common people.
Not long before, God blessed the world with a remarkable new technology invented by Johann Guttenberg—the movable type process. This technology had matured to the point where it could be used to spread Luther's Bible and his other God-given wisdom to the starved culture. Luther's message was that of a "reform"—re-forming the church and, indeed, the culture of his day to conform to the timeless truths of God's Word.
God placed us, you and me, in exactly the right place at the right time. Born into a country founded on Christian principles that has become corrupt and has strayed from the orthodox Word of God, we are called to boldly proclaim the truth of God's Law and Gospel.
God has blessed us with the intellectual gifts to proclaim that clear, consistent message of God's truth. God has blessed our world with remarkable new technologies which facilitate the proclamation of that truth in new ways to new audiences. This is not a new message, but simply using the new technologies with which we have been blessed to shine the light of God's truth in the darkness of our culture.
It's time for a re-formation! It's time for us—you and me—to BOLDLY stand on and for the timeless truth of God's Word—against the culture of death in which we live.
It's time for us—you and me—to BOLDLY proclaim the truth that GOD creates life; that Jesus died to redeem us from sin, death, and Satan; and that the Holy Spirit calls us into relationship with Him through the waters of Holy Baptism.
It's time for us—you and me—to embrace current and emerging technologies to spread God's truth about Life. Won't you please help us in this endeavor?
"Like" and "Follow" us on Facebook. Share our posts so that your friends might learn the truth about life.
Check out all of our resources.
Help us with a financial gift to produce more content to share.
The reformation was never meant to be "one and done."
It's time for a reformation!
From the Executive Director
Ten Blessings of Loving Someone with Special Needs by Pastor Michael Salemink
Abortion/Post Abortion/Alternatives
An Answer to 20 Years of Prayer! by Diane E. Schroeder
There Already Is a Law by Deaconess Tiffany Manor
Does Disability Warrant Abortion or Assisted Suicide? by Pastor Michael Salemink
Family Living
Living with Disability at Church by Mona Fuerstenau
Caring for the Caregiver by Lynette Auch
Families Belong Together! by Pastor Michael Salemink
Lutherans For Life Resources

Life Thoughts in the Church Year
World News

Spotlight on Lutherans For Life
Share the Life Message All through the Year! / Word of Hope
For Life Along the Root River by Virginia J. Flo
Can You Believe This? A Very Shocking Statistic (Part Two) by John Hawkins
2018 LFL National Conference – From Age to Age the Same
Lutherans For Life National Staff Holds Retreat
Living the Dream … Sharing the Love! by Virginia J. Flo
Coming This Fall! 2019 Life Sunday Resources
All children have special needs. Every human being comes with unique and individual needs. Their distinctive circumstances and personalities may bring certain challenges, but they also grant irreplaceable blessings. Where sin sees others—with or without disabilities—as threats to personal desires and priorities, Christian grace and faith can see them as gifts of hope and purpose and receive them as treasures and joys.
Here are just ten of the many ways:
They prove God sustains. Despite what individuals without disabilities might assume, persons with disabilities enjoy their lives as much as anyone else. They appreciate all its opportunities and gifts, even in the midst of affliction.

They embody grace. Living with disability proclaims that age, appearance, and ability don't make a person more or less valuable. Rather, God's love in creating, redeeming, and calling pronounces every member of our race precious.

They model community. Persons who have impairments demonstrate how all human beings get to depend upon our Heavenly Father and upon each other.

They add another viewpoint. Those who lack what many take for granted contribute insights on life and relationships that we might not otherwise experience.

They invite servanthood. Neighbors that require particular attention and assistance provide us with opportunities to step outside ourselves and our concerns for the privilege of showing compassion.

They surprise. What a delight to witness in these exceptional people how God's goodness can't be limited by our expectations and familiarities!

They underscore the promises of Paradise. When brokenness becomes more obvious, it highlights the comfort that comes from our hope in the resurrection to everlasting life in our Savior's new creation.

They prepare us to help others. Practicing acts of kindness toward the ones whose needs we can clearly perceive trains and shapes us for aiding everybody around us, especially the least of these.

They personify Christ. In the hurts and handicaps of individuals with disabilities, we encounter Christ Himself who incarnates heaven among us in humility. They draw us near to the Father whose power is made perfect in weakness—and not just theirs but even ours.

They blaze us a trail. Loving someone with special needs prepares us to face the days when our own frailties inevitably increase. Whether those frailties show up in injuries or ailments or age, we will have learned how to inhabit them with courage.
Real relationships don't work like Facebook. Thanks be to God.
I attended a town meeting last month. I live in a suburb of St. Louis—a village really—populated by some 1,500 souls. Many have lived here for decades. The homes range from the 1920s to the 1950s and from the $120s to the $170s. It sits adjacent to both a university and the recently worst-rated school district in the state. Our residents come in both lighter and darker shades of skin. Like most Midwestern metropolitan areas, racial tensions regularly percolate and sometimes arise (we're only a couple of miles from infamous Ferguson). Neighborhood yards feature both red and blue signs during campaign seasons. With a small-town complexion in a city context, the diversity provides a remarkably representative cross section of our entire country.
The possibility of fireworks at this particular meeting piqued my curiosity. Village administration (a mayor, a clerk, three aldermen, and three police officers) had hired a property inspector in the spring. Town bylaws stipulate certain exterior standards in the interest of preserving property values. Local government hasn't strictly enforced the criteria for some time. But this May more than half the homes received violation notices. Without specified improvements—some of them quite expensive—by September, they would face fines. The situation even made the St. Louis newspaper.
Turnout to the town meeting was robust. Fifty or seventy-five of us crowded into a room designed for about half as many. (I sat on a radiator while several others had to remain in the hallway.) The mayor proceeded briskly through preliminary business. He prudently recognized most of us hadn't shown up to read minutes. The floor opened for questions and comments at about 7:20. By 9:00, I reckoned I'd been beholding a near miracle.
For over an hour and a half, no one shouted. No one swore. Nobody accused. Nobody cried. Dozens of different folks spoke, from teenagers to octogenarians. Each patiently raised his or her hand and waited his or her turn. No interrupting. No insulting. No snark or sarcasm. Political parties and postures didn't even enter the dialogue. People did have grievances. They did have demands. They did voice them passionately and persistently. They didn't hide how indignant and angry they felt. But they disagreed without disrespect. They appeared to appreciate how we all have to inhabit a common space. They authentically wanted to continue figuring out how to live together like neighbors. One lady suggested establishing a neighborhood watch, and several others offered to help. Another fellow began drawing up a list of "good neighbors"—one column for those who needed assistance addressing property issues and the other for those who would be willing to provide it when contacted.
We don't always see such civility, do we. Sensationalist news media seems almost allergic to it. Workplaces appear to prefer griping and gossip. Facebook echo chambers and internet anonymity are driving civility to the brink of extinction. Technologies that promise to bridge distances also divulge the original sin that makes us selfish and divisive. Even congregational board meetings and voters' assemblies can deteriorate into rivalries. And pro-life demonstrations, discussions, and disagreements sometimes proceed in animosity instead of the sanctity we profess.
Life issues aren't merely differences of opinion. Life issues aren't primarily personal matters or political affiliations. Life issues aren't simply points to prove and arguments to win. We aim even higher than convincing opponents, overturning verdicts, ending abortion, or preventing assisted suicide. Life issues involve people—hearts and lives and eternities—that are precious treasures of God and special privileges to us. The Gospel we have, the one about God's grace, forgiveness, and love for everyone, brings joy. The Gospel we love, the one about Jesus Christ's humility and servanthood toward humankind, gives hope. The Gospel that motivates us works relationships and rebirths, even without our prayers or labors.
Let's turn off the screens. Let's pick up the phone and pay a visit. Let's learn from Jesus how to question and listen. Let's remember how to investigate together and suggest instead of insisting. Let's affirm agreement, however minute. Let's speak courageously but compassionately. Let's show them their heavenly worth even if they would promote death. Let's share their holy purpose with them even if they would permit death. Let's cheerfully ignore online grumpiness without outdoing it with our own. Let's patiently, gently resist digital bitterness rather than reacting in kind.
If a village can do it, how much more the kingdom of God!
Each year Lutherans For Life (LFL) sponsors two essay contests for Grades 6-8 and Grades 9-12. The 2018 Minnesota finalists won based on their personal insights into life issues that demonstrate the meaning of the Lutherans For Life National Conference theme "From Age to Age the Same." The theme is based on Scripture that says, you "have been borne by me from before your birth, carried from the womb; even to your old age I am he, and to gray hairs I will carry you. I have made, and I will bear; I will carry and will save" (Isaiah 46:3b-4).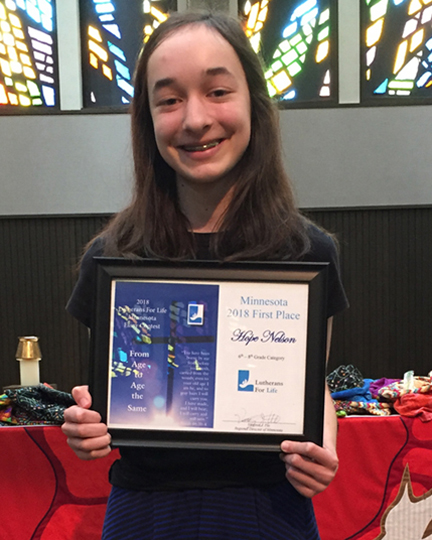 Hope Nelson from Rochester Central Lutheran School in Rochester, Minnesota, is the winner of the Grades 6-8 Minnesota Essay Contest. Hope wrote about the things in life an aborted child would miss if his/her life was cut short by abortion. She summed it all up with, "You yourself are one of a kind, and there will never, ever be anyone like you ever again. Each unborn baby is like that too, and they will all grow up into different, amazing people. But, if the unborn baby is aborted, that is just one human being who's been stopped from reaching what they could be."
Congratulations to Hope Nelson, a special person herself with a love for her Lord and Savior Jesus that showed vividly throughout her essay.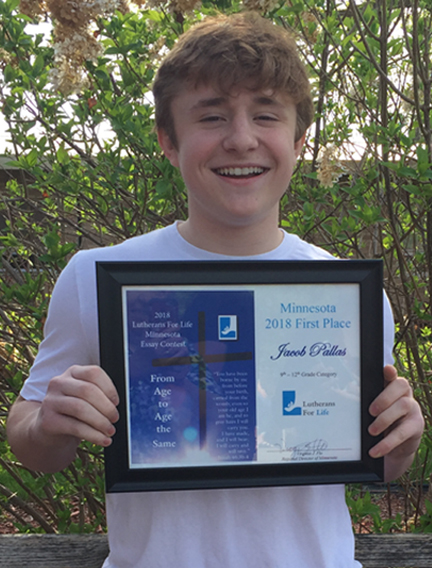 Jacob Pallas from Mayer Lutheran High School in Mayer, Minnesota, is the winner of the Grades 9-12 category. Jacob wrote a very touching essay about his friend Elly from his congregation, St. John's in Chaska, Minnesota. Jacob described Elly this way, "God has given her the gift of hospitality and encouragement. He has also given her an extra chromosome, a condition called Trisomy 21, or Down syndrome." He also added, "She is the most energetic, exciting young lady I have ever been around. Her presence fills the room up with pure joy." He went on to say, "Parents who receive a prenatal diagnosis that their child has Down syndrome should be introduced to young people like Elly so that they can see that a child with Down syndrome is so much more than just a diagnosis."
Congratulations to Jacob Pallas, a young man with a special heart for God and His creation.
The essays students write clearly show they understand life's issues and God's love For Life as they write from their hearts what they see in Scripture. Both winning essays will be included in the LFL National Essay Contest. The national winners will be invited to read their winning essays at the Lutherans For Life National Conference that is being held at Immanuel Lutheran Church in Olivette (St. Louis), Missouri, on October 12 and 13. All the students in Minnesota who entered the contest through their school, church, or home school are winners. A special thank you as well to all the teachers, parents, and pastors who supported these students during the essay process. To God be the glory!
Virginia Flo is Regional Director of Minnesota and National Conference Director.
From the Executive Director
10 Reasons Embryo-Destroying Research Is Unnecessary by Rev. Michael W. Salemink
Abortion/Post Abortion/Alternatives
Calling Evil "Good" by Linda D. Bartlett
Bioethics
Voice of Truth by Lynette Auch
Innocuous Inoculations? by Rev. Michael W. Salemink
Bioethics in Luther's Small Catechism by Ryan C. MacPherson, Ph.D
Family Living
A Turning Point by Diane E. Schroeder
Marvelous Are Your Works! by Marie K. MacPherson
A Father's Prayer by Pastor Mark Jeske
Life Thoughts in the Church Year
World News
Spotlight on Lutherans For Life
Share the Life Message All through the Year!
Children of the Heavenly Father – A Visit to India by Rev. Scott Licht
Can You Believe This? A Very Shocking Statistic (Part One) by John Hawkins
2018 LFL National Conference – From Age to Age the Same
Thank You, Life Chapters!
2017 Congregational Auxiliaries – Organizations Donor Honor Roll
A Letter of Thanks to Every Member of Lutherans For Life by Rev. Michael W. Salemink
A couple months ago, something came across my desk that I still find hard to believe.
Let me tell you about it.
Recently, the Pew Research Center surveyed American denominations on abortion. Among their findings was that of Lutheran Church–Missouri Synod members polled, 46% said abortion should be legal in all or most cases.
If that wasn't bad enough, the survey contained what I thought was even more unsettling news.
Among other church bodies polled, 30% of Southern Baptists similarly felt abortion should be legal while 66% didn't. While I rejoice that a solid majority of their members are pro-life, I also found the contrast in percentages with the LCMS to be troubling.
Why? Because Lutherans pride themselves in making sure prospective members know what the Bible and their church teach before they join. This is done through confirmation, instruction classes, etc. This structured approach is much different than bringing members in via an altar call with the particulars of the faith intended to be shared at a later date.
If pro-life has taken stronger root in a Christian body with less training on its beliefs than a more formal one like the LCMS, it can only mean that the process has broken down somewhere (at least on life affirmation).
In short, either a Gospel-centered, life-affirming stance has (1) not been shared with those in the pews (or only very sparingly), or if it has, it's (2) been forgotten or rejected by its members.
Regarding (1), I've observed in the four years I've been with LFL a lack of sharing can take generally one of two scenarios: (A) the congregation considers the subject of abortion to be "untouchable" therein or (B) life affirmation is so far on the back burner it might as well not be there at all.
A lot of factors can be part of this. In some instances, there are both longstanding pro-life and pro-choice factions in the church along with concern that assertively embracing the former will split the congregation. In some cases, pro-life folks want to do something in their church but meet resistance from the pastor or vice versa. (Does this describe your church?)
Another factor can be concern for persons in the parish who have participated in an abortion decision and that old and serious wounds will be reopened. So, the subject is never mentioned. The result is additional ladies in the pew may decide to terminate their pregnancy because reasons not to are never shared.
Still other churches I perceive don't take a pro-life stance because they feel this will discourage unchurched persons from exploring their congregation or joining it. (Personally, I don't understand why outreach to singularly save souls takes precedence over trying to save lives and souls.) Which leads to the question: is it possible to be confirmed as an adult in an LCMS congregation and not know it's pro-life? Are there instruction classes where this subject is never mentioned? (How is this handled at your church?)
Even more tragically, is it possible as a teenager to be confirmed and not know that life affirmation is taught by the Bible and the church? Fortunately, some data indicates this is less likely. According to the 2016 LCMS National Youth Gathering Survey, 76.2% said they were pro-life. So, the message may be getting through to more of our teens than adults. (We can praise God for this!)
Regarding scenario B, this is where life affirmation is not ignored but put on the back burner—way back. It reminds me of a pundit's scenario once regarding Christianity. It goes like this: if the government was overthrown and a brutal, anti-Christian dictatorship took over and hauled you before one of their courts and accused you of being a Christian, would there be enough evidence to find you guilty? The answer is that you hope so.
A pro-life "take-off" on that could be that while an LCMS congregation supports the pro-life position of the Synod, nobody can remember the last time Life Sunday was observed, either LFL or another pro-life group had a display in the narthex, a life-affirming sermon was preached, anyone from the parish volunteered at the local pregnancy center (or it was advertised in the church newsletter that help was needed), the website or literature rack displayed anything to indicate the church affirmed life, and last but not least, the congregation hosted or at least had some members who were active in an LFL Life Chapter/Team, pregnancy center, Right to Life group, etc. (or financially supported one or more of the same).
In short, no one would ever be counseled to get an abortion at this church, but no one is going to take leadership in trying to persuade anybody in the pews who might be among the 46% of pro-choice folks to change their minds, either.
The solution in either scenario, of course, is to prayerfully embrace one and hopefully several of the approaches above as part of either a first-time or renewed commitment to Gospel-centered life affirmation. The reason why? Because every Lutheran Church that believes life begins at conception has a duty to witness Gospel-centered life affirmation beginning with their own members.
But what about situations where the church is doing its job in the pro-life arena and still finds it has members that are directly or indirectly supporting a pro-choice position?
That will be discussed in Part Two in the next issue of LifeDate. In the meantime, LFL has a lot of work to do to try to assist churches, its Life Chapters and Life Teams, and its members win over many of our own people along with others. We also need you to partner with us! If you have not yet given in 2018, can you help us at this time? Many thanks in Christ.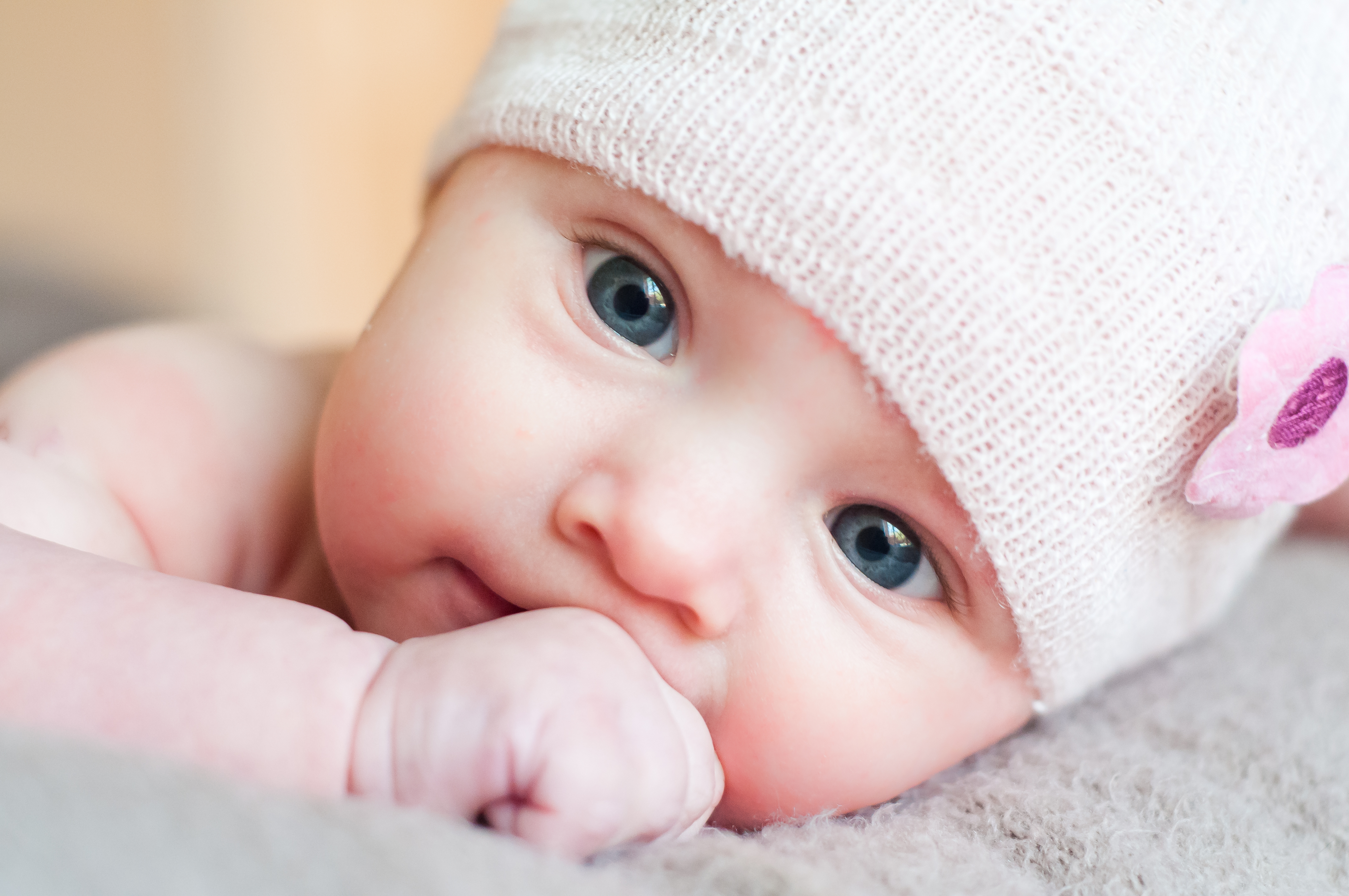 "See what kind of love the Father has given to us, that we should be called children of God; and so we are" (1 John 3:1 ESV).
Mother's Day will soon be here! For most Christians, this is a happy day in the Lord often observed with close family. Indeed, both the joys of motherhood and being an offspring are celebrated to the glory of God! (This is not to overlook those who are struggling with infertility or other issues on this day.)
But for one young lady a few years ago, the chance to celebrate Mother's Day almost didn't happen—and only did because of Lutherans For Life.
Please let me explain.
It was Sanctity of Human Life Sunday. It was being observed in January in a Lutheran church in a western state. One of the board members of the local Lutherans For Life (LFL) chapter was asked by the pastor to say a few words at the end of the service. Her remarks, by design, were brief: how life begins at conception through our Creator; how God knew, formed, and knit us together in our mother's womb; and so on. Also shared was how God intends for babies to be born, and how only at a time of His choosing will they pass into His care—hopefully many years later.
She also mentioned that because of an often-made decision to intercede and end life prematurely through abortion, hundreds of babies' lives are taken violently and unnaturally each day (over 3,000 every day in the United States).
Although our LFL volunteer member didn't know it at the time, a struggling young woman in the back was hanging onto her every word.
Why? Because she was pregnant and unmarried. I'll let our chapter leader tell you what happened next.
"Then one Sunday, later on, a young lady came up behind me and handed me a baby and said, 'Hi, I heard your talk nine months ago. At that time, I was planning on having an abortion, but after hearing what you had to say, I didn't.'"
You can imagine how the LFL speaker felt. "It warmed my heart," she said excitedly! "Sometimes when I speak, I think nobody's listening and I'm talking to the wall. And then this happened. It shows our work matters!"
Some folks would say this story is a miracle. It is also by no means an isolated event.
Indeed, since it was founded almost 40 years ago, many stories (probably hundreds!) have been shared anecdotally where Lutherans For Life, with the guidance and intervention of the Holy Spirit, has saved lives. Praise the Lord and may His will be done always!
Now, this wouldn't be happening if it weren't for you and other dedicated friends. That's because over 95% of our funding comes from individual donations and offerings. The fact is, we receive no subsidies, insurance reimbursement, tuition, fees, etc. Only your gifts and offerings support this Gospel-centered, full-time, life-affirming ministry in the Lutheran church.
We must also report that both the work of LFL and funding to support it have never been more crucial. Here's why: There is a frightening anecdotal statistic which tells us we still have a lot of work to do. From conversations with LFL board members, staff, volunteers, and hundreds of church workers, we estimate that about 20%-25% of women in pro-life Lutheran synods and associations have had or will have an abortion. That boils down to hundreds—if not thousands—of lives and souls being in jeopardy in the church right now.
It doesn't have to be this way.
With your help, Lutherans For Life can continue—and expand—its witness so there are more success stories like the one shared by our LFL volunteer in the west.
Because you care, more young ladies, like the then-expectant mother whose story I shared, will be able to celebrate instead of grieve on future Mother's Days. To God will be the glory!
Can we count on you for a special financial gift at this time?
May we extend our best wishes to you and yours as you observe Mother's Day and the blessing of mothers (and fathers!) and children in Jesus Christ each and every day.
In His Service,
John Hawkins
Director of Stewardship
P.S. Like the expectant mother discussed above who decided against an abortion thanks to God and the work of Lutherans For Life, your donation can help us and the Holy Spirit save many more lives and souls. Please donate today.
From the Executive Director
The Gospel According to Sex by Rev. Michael W. Salemink

Abortion/Post Abortion/Alternatives
60,069,971 Abortions in America Since Roe v. Wade in 1973 by Steven Ertelt
Overpopulation? by Rev. Michael W. Salemink
"Jesus Loves Me" and Those with Down Syndrome!
Fear and the Conditioning of Society by Duane Matz
Science, Religion, and the HHS Mission Statement by Jonathan Lange

Worldview and Culture
Assault in Our Wounds by James M. Kushiner
Made New by Lynette Auch

Lutherans For Life Resources

Life Thoughts in the Church Year

World News

Spotlight on Lutherans For Life
Owen's Mission Reaches Fundraising Goal
Aloha, From Y4Life! by Laura Davis
LFL Receives Fund Grant for Word of Hope
Y4Life in Washington, D.C., 2018 by Laura Davis
Lutherans For Life at the 2018 March for Life
The New 2018 Tax Law – A Few Thoughts by John Hawkins
2017 Congregational Donor Honor Roll
Photo Gallery – March for Life 2018 – Washington, D.C.
Since Y4Life officially launched five years ago, we have tried to encourage youth and young adults to attend the annual March For Life in Washington, D.C., through our Y4Life in Washington, D.C., program. I have always seen the March for Life as a great encouragement for students, a way for them to realize that they are not alone in their beliefs, that there are literally hundreds of thousands of people willing to march, rain or shine, snow or sun, for the rights of the unborn.
We have enjoyed our small, annual Y4Life trips to D.C., but last year we noticed a exciting opportunity. There are so many Lutheran student groups that attend the March for Life, students from high schools and college groups from across the country. Wouldn't it be great to create an opportunity for all of those students to get together, to get to know each other and learn from each other? From this idea was born the new Y4Life in Washington, D.C., three-day event, provided free of charge to any Lutheran student or student at a Lutheran school.
The first new and improved Y4Life in Washington, D.C., took place this January in conjunction with the 45th annual March for Life. It included daily Bible studies and devotions, music, opportunities for fun and fellowship, guidance on using the Metro and sightseeing, and, most importantly, attending the March together as one big Lutheran student group. The weekend culminated in a "mini-conference" where student groups could learn more about Y4Life and Gospel-motivated life ministry.
The weekend was a great success! We had over 75 students, representing three Lutheran high schools and two Lutheran universities, as well as other students and families. All of these youth and young adults brought great energy and joy and were a huge encouragement to me and the Lutherans For Life staff. We pray that the weekend was an encouragement to them, and we look forward to seeing them all again in 2019!