Today, December 28, we observe Holy Innocents. From Matthew 2:16-18 (ESV):
"Then Herod, when he saw that he had been tricked by the wise men, became furious, and he sent and killed all the male children in Bethlehem and in all that region who were two years old or under, according to the time that he had ascertained from the wise men. Then was fulfilled what was spoken by the prophet Jeremiah: 'A voice was heard in Ramah, weeping and loud lamentation, Rachel weeping for her children; she refused to be comforted, because they are no more.'"
---
On Saturday, December 14, 2019, Pastor Michael Salemink, executive director of Lutherans For Life, was invited to share reflections at an event coordinated by the pro-life group Defenders of the Unborn. The event is held every year outside the local Planned Parenthood and is called the Empty Manger Vigil. There were prayers, the singing of Christmas carols, and Scripture readings. "Saint Nicholas" was also there carrying a sack of toys for the children who were absent, denied by abortion of their first birthday.
On this day of Holy Innocents, it seems appropriate to share Pastor Salemink's reflections from the vigil.
---
We have gathered here to lament. We have gathered here to mourn. We have gathered here to grieve. Evil has invaded our world. Sin has settled over our land. Satan has persuaded our people to use death as a solution. The devil has deceived vulnerable minds to view death as a solution to difficulty, to suffering, to surprise pregnancy, and to terminal diagnosis.
We have gathered here to bear witness to an empty manger. We have gathered here to bear witness to the cradles that lie empty in so many homes. We have gathered to remember the wombs, the consciences, the arms, the hearts that abortion has left empty and hollow.
We have gathered here to repent of our own apathy, our own inactivity, and our own apprehension that have allowed this to happen. We have gathered to confess our own acquiescing to a culture that assesses human worth and purpose according to age or appearance or ability, a culture that compares and competes and regards neighbors—particularly the least of these—as rivals instead of privileges.
We have gathered here to remind this community, to remind this civilization, that Herods still slay their little ones—our little ones—in anger and in fear. We have gathered to acknowledge that sometimes we permit and promote and participate in that same anger and fear. We have gathered to testify that a manger lies empty because many would remove Almighty God from His rightful throne and reject His authority as Lord and Savior among us.
We have gathered here to weep with Rachel, if only in our spirits, because the littlest innocents have been martyred, because her children have been slaughtered, and they are no more. We have gathered here to weep with Jesus, if only in our spirits, because He often longed to gather the children, even the infants and the unborn ones and the embryos, unto Himself as a hen gathers her chicks under her wings, but they would not. Our people would not—more than sixty million times over forty-seven years they would not—and we have gathered here to behold that too many houses have been left desolate.
Yet we have been gathered here to rejoice. Yes, we have been gathered here to rejoice at an empty manger. We have been gathered here to celebrate that the Word became flesh and dwelt among us. We have been gathered here to celebrate that we have beheld His glory, the glory as of the only begotten Son of the Father. We have been gathered here to repeat and to proclaim that our God, the Maker, has incarnated Himself alongside us. We have been gathered here to declare that His great compassion has involved Him in our world, in our nature, in our condition, in our pain, in our failure, and even in our sinfulness and death.
We have been gathered here to delight that the manger is empty because the Christ child not only endured our anger and fear but He survived it, because the light shined in the darkness and the darkness has not overcome it. We have been gathered here to testify that the manger is empty because Jesus grew and knew our difficulty and our suffering and our sorrow. We have been gathered here to bear witness that the manger is empty because Jesus Christ, the Son of God, the Savior of humankind, and the Lord of creation, has gone out into the world and into lives and homes and hearts.
We have been gathered here to rejoice that Jesus left the manger to lift Himself up on the cross, on our cross, to undergo punishment in our place, to atone for all evil, to pay the price and render ransom for every life, to sacrifice His body and blood for us, to die for us. We have been gathered here to rejoice that not only has the manger been emptied but the grave itself has been vacated, too. Christ has risen, returned, and ascended to reign over the heavens and the earth—our past, present, and future.
So, let us speak today and from this time forward. Let us speak the truth that God creates, redeems, and calls every human life to be His own precious treasure forever. Let us share His love that makes each member of our race sacred, such that neither productivity nor popularity nor prettiness nor power can improve or impair it. Let us show courage and compassion to claim children from the clutches of selfishness and hell and receive them as priceless and irreplaceable gifts from fertilization until forever—the children and their parents and the politicians and the abortionists and anyone broken by their role in these massacres.
Let us open our eyes, our mouths, our hearts, our hands, our homes, and our churches to claim them and receive them as brothers and sisters in Christ. And let us ferry them with us into the everlasting heavenly kingdom where there is no more crying, where there is no more dying, until all the mangers are empty and the banquet table of the Lamb's wedding feast is full. Amen!
From the Executive Director
"Did God Really Say … ?" by Pastor Michael Salemink
Abortion/Post Abortion/Alternatives
Give Us This Day Our Daily Bread by Rev. Justin A. Herman
Come, Spirit of Truth by Lynette Auch
Family Living
Did God Really Say Yes to Sex? by Pastor Michael Salemink
Tips for Instilling Life Values in Children by Stephenie Hovland
Lutherans For Life – Bethesda Lutheran Communities
Did God Really Say Indispensable? by Mona Fuerstenau
Worldview and Culture
"Lord, to Whom Shall We Go?" by Virginia Flo
Life Thoughts in the Church Year
World News
Spotlight on Lutherans For Life
Share the Life Message All Through the Year! / Word of Hope
More than Historians by Michelle Bauman
Attention All Youth: It's Time to Sign up for Y4Life in Washington, D.C.!
A New Y4Life Team
"Exactly What God Would Want Us to Do" by Michelle Bauman
Our Frontlines Continue to Grow by Deaconess Rachel Geraci
2020 March for Life/Estate Planning/Real Estate for Life/LFL on Social Media
LAMBs – Lutherans Assembling Mercy Blankets
2020 LFL Regional Conferences
That's right, the annual March for Life scheduled for Friday, January 24, is quickly approaching! While thousands of adults will attend this event, we're also hoping that 4Life youth will walk with us again this year at Y4Life in Washington, D.C. All high-school- and college-aged youth (with chaperones!) and all current Y4Life Teams are invited to march with us.
But that's not all! Youth who stay in our hotel block at the Residence Inn Arlington Capital View are also invited to attend a FREE Y4Life Conference the same weekend! Join us before the march on Thursday, January 23, for an evening of devotions, sign-making, and opportunities to get to know other 4Life youth. Then attend our conference Friday evening and Saturday morning to explore other 4Life issues.
Find more information above or email Michelle Bauman at . (She looks forward to seeing you there!) Don't wait—hotel rooms and conference spots are limited!
It is a serpent's nature to twist and hide. The devil even does it with the Word of the Lord.
And he succeeds in deceiving, not because of his wealth of wisdom but rather our lack of listening. Satan spits a mist of expert assertions and popular opinions; whips up the dust of social conditions and emotional circumstances; and makes multitudes believe life issues are "complicated," "political," and "personal."
Thanks be to God that wherever the father of lies raises suspicions, the Son of God puts His pierced foot down with promises that lay the foundation upon which we may stand with confidence and fall with comfort.
Did God really say His grace in creating, redeeming, and calling makes every human life His precious treasure forever? Yes!

Did God really say we need abortion, assisted suicide, and embryo experiments to alleviate our afflictions? No!

Did God really say surprise pregnancies bring blessings and terminal diagnoses have righteous purpose? Yes!

Did God really say the Gospel of Jesus Christ works joy and hope except amid our sins and sufferings? No!

Did God really say His truth and love prevail for unborn and elderly lives as well as well as abortion advocates and euthanasia enthusiasts? Yes!

Did God really say speaking His truth and showing His love heal all hearts but the ones that participate in violence against life? No!

Did God really say we may receive as a gift and privilege every member of the human race that achieves a certain age, appearance, or ability? No!

Did God really say these restrictions and reassurances apply even in political controversies and personal choices? Yes!
"Lord, to whom shall we go? You have the words of eternal life" (John 6:68b).
Many Christian homes begin mealtime with the prayer, "The eyes of all look to you, [O Lord], and you give them their food at the proper time. You open your hand and satisfy the desires of every living thing" (Psalm 145:15-16 NIV). This prayer acknowledges that God provides for all of our needs of body and soul. He gives these provisions to all people through means. Children experience this provision in unique ways. They do not work, and yet meals are set before them. They have no money to buy clothes, and yet they are clothed. God provides all that is necessary for their lives through the means of parents, grandparents, and guardians. As we grow older, we tend to forget how God provides for us every day of our lives. We start listening to the devil's words bidding us to question, "Did God really say … that He would provide us with all that we need? That He will take care of our children?"
Every one of us wants our children to live, grow strong, and thrive. We want them to have life and have it to the full. To this end, we make sure that our children have the best food, education, and health care that we can afford. We do not want our children to fall behind in this technological world that is getting more advanced by the second. We don't want our children to get any disease, especially anything that may be preventable by proper health care. So we use all the means that God has given us to prepare our children for life by giving them the tools that they will need to be healthy and successful. For many of us, this road to health and success starts immediately after our children are born with the care that they receive in the hospital.
God uses parents and guardians as means by which He provides children with all they need to support their bodies and lives. With this said, parents do have choices in their health care, and some of those choices have to do with the ethics of health care. For instance, many For Life parents are unaware that some vaccines were developed and are made using aborted children. You can visit the following to begin your research on this troubling reality at Children of God For Life and Lutherans For Life.
These articles show us that sometimes humans attempt to redesign God's law in a desire to protect our own children. We are certainly For Life, but is it okay to use the deaths of the helpless to keep us and our children alive? As a society, has our worry about God's provision led us into sin? Should we promote an industry where more abortions are needed for further medical study that might protect against an illness? Do we want to promote an atmosphere where the murder of somebody else's child is justified because it might prevent our children from contracting a disease?
Worry pushes us into places that God would not have us go, but living lives of thanksgiving leads us to use what God freely gives to ensure life for everyone. God's ultimate purpose is to bring all people from every nation to a place where they hear the Word of Christ which gives eternal life to all who receive it (Acts 17:26-28). For Life individuals have the opportunity to ask vaccine manufacturers to provide ethical options that do not use aborted children in their research and development. We must also show with our medical choices that we are committed to the unborn.
Christians live in a scary world, and we do all that we can to promote life in this culture of death. However, Christians should not break God's commandments or encourage others to do so, even if it is in the name of medicine (Romans 3:8). We should not make our decisions based on fear (2 Timothy 1:7). Christians make decisions with the knowledge that Jesus' obedience to the Ten Commandments on our behalf and His death in our place gives us life that no disease can ever take away. We do go to doctors that God provides for our health. But, Christians will not choose to stay alive at the cost of our neighbor's life. We pray for God's light to shine on all of our decisions and that every aspect of our lives would be fulfilled within the boundaries of His Law and Gospel. We do not want our worry to guide our search for daily bread (Matthew 6:25-34). Rather, we rely on God's Promise and receive what He has provided with thanksgiving. For we know that with Jesus we have daily bread that endures, even to everlasting life (John 6:28-29).
Rev. Justin A. Herman is senior pastor of University Lutheran Church in West Lafayette, Indiana, serving the students at Purdue University.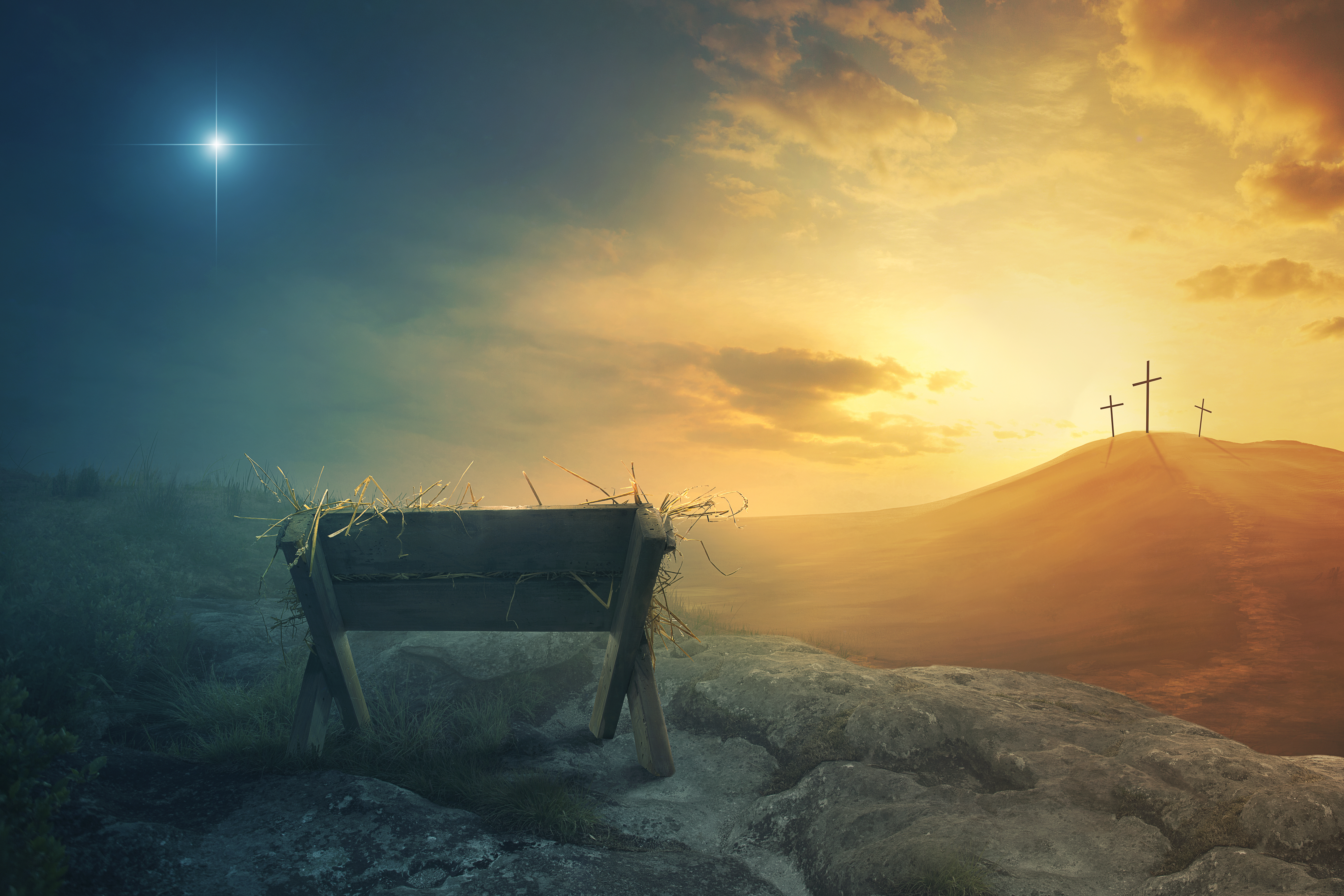 Imagine a nineteen-year-old girl. She holds in her hands a positive pregnancy test. College, career, finances, freedom, boyfriend are racing through her brain. They're all falling through her fingers. This will ruin her mother's reputation. Dad's not going to stand for it. She feels afraid, ashamed, alone. She has to fix this. She can make it go away. No one needs to know. Celebrities and educators told her so.
Could we help her?
Imagine a thirty-nine-year-old guy. The sanctity of life makes sense to him. Sometimes he wishes it didn't. He hears the way journalists ridicule "anti-abortion fanatics." He watches internet commenters harass "conservative extremists." Office conversations cause him stress. Social gatherings leave him isolated. He feels the need to speak for the least of these. He just can't seem to put his concerns into words.
Couldn't we help him?
Imagine a fifty-nine-year-old man. He's carrying a secret grief. He suffers a silent guilt. Nothing lets him forget how he supported a girlfriend's abortion. What kind of demonic monster takes part in putting his own child to death? Several decades and many bottles of alcohol later he despises his life. He believes he should be the one who's dead.
Would you be of service to him?
Imagine an eighty-nine-year-old lady. Her prison consists of hearing aids, canes, medications, aches and pains. She needs help dressing and bathing herself. She can't even eat or breathe on her own. It takes time and attention from the lives of others. It costs someone else's money and energy. Doctor says only nine months, maybe eighteen, left anyway. She wonders whether she would be better off dead than a burden.
How would you be of service to her?
Lutherans For Life is reaching them with the Gospel of Jesus Christ. Lutherans For Life is touching them with the promises of God's grace. We need your help to keep changing their hearts. We need your partnership to keep saving their lives.
Will you give a special financial gift? Please send your donation today! It's not only a gift to us. It's an offering to them—and an offering to the Lord.
Imagine this nineteen-year-old girl hearing her life matters even in surprise pregnancy.
Almighty God has created, redeemed, and called her as special to Him. He has made her little one the same kind of gift, privilege, and precious treasure forever. His people will embrace and assist her. They're surrounding her with His joy and sustaining her with His hope.
Imagine our thirty-nine-year-old guy learning truth and love belong together.
God's Word works even when it hurts. He won't allow anyone to suffer alone. You can disagree without disrespect, and sometimes cherishing neighbors means questioning their statements. A nationwide network unites with you to find words for warning and winning over.
Just imagine the fifty-nine-year-old man receiving forgiveness.
He sees what a beloved son he's become, entirely and eternally, as much as the life that was lost. He is beholding a Savior Who has made up for all we make wrong. He's being held by a Father Who still wants him and stays with him. The Lord God releases him from punishment and even repurposes his mistakes for displaying His grace.
This Christmas, imagine your eighty-nine-year-old lady feeling worth and purpose.
Her body, though broken, serves as a temple of the Holy Spirit. God reveals His mercy and might as He keeps her amidst infirmities. No one's age, appearance, or ability can impair or improve His care. Her pains are connecting people to each other, and her suffering bestows the honor of being needed.
Now imagine this is your sister. Imagine it's your own daughter. Imagine somebody you know, one you love. Imagine it's your dad, your grandpa. It could be your brother, your son, your granddaughter. It's a teenager or a twenty-something in your congregation. This is your aging neighbor.
And you don't even have to imagine. It's happening right now, in our communities and across the country. This is what we do. This is why we do it.
Lutherans For Life is proclaiming this message. We are putting this ministry into practice. We're speaking this truth in hundreds of print and digital resources. We're showing this love with dozens of programs and in-person presentations. Life Sunday resources, LifeDate, Life Teams, Life Chapters, Y4Life, Word of Hope, and Owen's Mission—just to name a few.
We've done it for forty years, because of you and so many others too. Can we continue to count on you? Why not give in memory of a loved one? Why not become a monthly sponsor, or leave a legacy by including us in your will? Why not encourage your congregation to designate funds for us, and why not a couple acquaintances as well?
As long as you keep making it possible, we'll keep making a difference—an immediate and eternal difference!
"Thank you for caring." "Please keep speaking." "God bless your ministry."
I'm delivering these messages from Lutherans across the country. They asked me to share them with you. I was able to gather with thousands of Gospel-motivated voices this summer. We visited the LWML National Convention, the LCMS Synodical Convention, the NALC Convocation, and the LCMC Annual Gathering. We also had a presence at the LCMS National Youth Gathering (NYG), the Free Lutheran Youth Convention (FLY), and two of the Higher Things youth conferences. They engaged us by the dozens—youth, parents, congregational leaders, professional church workers, widows, and grandpas. They came from your churches and from your communities.
Students brought questions and held conversations. They talked about the life issues—the spiritual concerns, the matters of the heart—that their friends and peers are facing, like surprise pregnancy, abortion advocacy, sexuality, and suicide. They took the informational booklets and brochures that we set out. They attended our educational presentations in such droves that we had to add extra sessions—and we still didn't have room to accommodate them all. Your students love to hear how God creates, redeems, and calls every human life as His own precious treasure.
Please keep speaking!
Parents shared their smiles and their tears. They told the stories of their preemies and their miscarriages. We looked at their pictures of foster sons, adopted daughters, and gestating grandkids. We witnessed them cradling our fetal models and placing them into the hands of their own little ones. We watched them linger fifteen minutes, lamenting the culture around them that uses death as a solution to suffering. Others spent half an hour rejoicing that no one's age, appearance, or ability can impair the worth and purpose God gives our whole race. Your parishioners rejoice in the courage and compassion from God's Word for our life-and-death circumstances.
Please keep speaking!
Many, many expressed their profound gratefulness. They beamed about how their pastors—that's you!—speak the truth in love. They bragged that their ministers name abortion a sin and declare physician-assisted suicide evil. They boasted of you withholding nothing of God's grace that works a better way through the greatest difficulties and afflictions. We learned that you give them a word from the Lord—a good Word—for situations when we can only see darkness, despair, and death. We heard that you explain our Almighty Maker values the lives of the least of these—the unborn ones, the elderly ones, individuals living with disability, or those in a Petri dish—just as much as the rest of us. They articulated exactly what you instructed, that the Heavenly Father's forgiveness applies also to violence against life, that Christ's compassion relieves from the grief of participating in it, and His sacrifice covers over the guilt of promoting it. Your members deeply appreciate your faithful servanthood.
Please keep speaking!
And some of them confessed regret. "I prayed for a sign. I needed God to make a statement. I wish my pastor would have said something." Several recounted the child that they aborted. A number mourned the embryos that they abandoned to experimentation or disposal. Not a few repented the deaths of aging loved ones that they hastened in ignorance. They divulged the sorrow and remorse they've borne silently and secretly for decades. They wondered why they never got their pastor's guidance. They disclosed their disappointment that their congregation never connected the truth and love of Jesus Christ to their life issues. They objected to categorizing these predicaments as too personal, too political, too controversial, too uncomfortable or offensive. They longed to have the Gospel proclaimed specifically to their hearts and explicitly to their hurts.
Please keep speaking!
"Blessed be the God and Father of our Lord Jesus Christ, the Father of mercies and God of all comfort, who comforts us in all our affliction, so that we may be able to comfort those who are in any affliction, with the comfort with which we ourselves are comforted by God" (2 Corinthians 1:3-4).
God of ALL comfort, for ANY affliction! Your ministry gives this consolation. Your sacred vocation changes hearts and saves lives. Our nationwide network has the delight of hearing about it every day. You don't just have something to say; you have the best word and the last word! "[S]o shall my word be that goes out from my mouth; it shall not return to me empty, but it shall accomplish that which I purpose, and shall succeed in the thing for which I sent it" (Isaiah 55:11). The Lord who called and ordained you in His Holy Spirit retains responsibility for the results of His message, whether reception or rejection.
Preach it gently, but relentlessly. Teach it patiently, but persistently.
We've prepared some resources to assist you. Check out our 2020 Life Sunday worship materials. They follow the theme of "Did God Really Say … ?" from Genesis 3:1 and John 6:68, "Lord, to whom shall we go? You have the words of eternal [LIFE]"! You will find bulletin inserts, Bible study and leader's guide, order of service, children's message, and model sermon manuscripts free of charge at www.lutheransforlife.org/store-life-sunday-2020. And we place ourselves and our entire organization at your service for consultation, encouragement, and education—whenever, wherever, and however you need.
We cannot overstate our gratitude for your fellowship. The generous offerings of congregations like yours have helped us reach and touch over 200,000 people this year (our fortieth!). We eagerly look forward to future opportunities for communication and collaboration with you.
Thank you for caring. Thank you especially for your Gospel-motivated voice For Life. And God bless your ministry!
This year Lutherans For Life turned 40 years old!
But lately we've been feeling young …
"With God's Word as our source of strength and our foundation, my generation will be the generation to end abortion."
This brave and gracious declaration was made by Elizabeth Plassard of Lafayette, Indiana. She's just entering her junior year of high school. She wrote the winning submission for our 2019 LFL National Essay Contest in the high-school division. Elizabeth goes on, "We need to show my generation that abortion is not the only option they have." She serves as spokesperson for our future, and she's learned how to be a Gospel-motivated voice For Life!
And she is definitely not the only one.
"We as Christians need to share the love of Christ and encourage those who struggle with a decision as difficult as abortion." So says eighth-grader Matthew Abernathy from Avon, Indiana. His essay won the junior-high division of our competition. "God has specially made us, and that we are His life from conception to death … letting Him guide us through even times of struggle, lets us make the right decisions."
Congratulations—not only to Elizabeth and Matthew but also to you. Thank you and praise the Lord! Because of you, we have succeeded in equipping a nationwide generation to proclaim the sanctity of life and put it into practice. They will act as spokespeople, citizens, servants, and leaders of our future. But please don't let them speak alone. Will you show them we stand behind them and walk beside them? Your special financial gift ensures that we can!
"I am For Life because every life is worth living."
We had a presence at several Lutheran youth gatherings this summer. Our displays met with nearly nonstop activity. In every location, our supplies of print resources quickly ran out. The students and their chaperones engaged our professional staff in constant and vibrant conversation. Visitors looked us in the eye and shared about their preemie, their miscarriage, their adoption, their grandchildren—and even their sexual assaults and abortions—and said, "Thank you for your presence. Thank you for your witness. Thank you for your work."
Conference organizers invited us to present about human development and speaking truth in love. So many attendees signed up that they had to add sessions, and several still had to turn people away! Participants went out of their way to offer us their appreciation. When we asked them to express why they are For Life, they didn't hold back:
"I am For Life because they have hearts just like us." "I am For Life because you are not alone, you are loved by God!" "I am For Life because God knit you together!" "I am For Life because we were called to care for those who can't care for themselves." "I am For Life because the world would be worse if you weren't here." "I am For Life because God can use anyone—in all sorts of ways!"
They're going to carry on the revolution you've begun. The younger ones have come this far, through God's guidance, because of you. They've come this far because of Lutherans For Life. But they're going to need our support and encouragement in order to finish the mission. Our children, your children, your grandkids—they're ready to prevent abortion, reject assisted suicide, dispense with embryo experimentation, relieve guilt, and heal grief.
Will you please send an offering right now to make it possible?
Elizabeth Plassard pleads: "I have watched as many of my closest friends support the murdering of innocent unborn babies. I have seen teachers forget science and logic when arguing why abortion is 'ok.' I have even had teachers not allow me to write or speak about abortion because it is 'too controversial.' So how is my generation supposed to beat abortion when we are constantly being told by our authorities, the media, and all the so-called 'influential' people in our lives that abortion does not need to be beaten?"
We have more day schools to visit. We have many more homeschool families to reach, many more high-school populations to motivate, many more university communities to activate, many more seminary campuses to educate. Government-funded instruction is indoctrinating our teenagers to use death as a solution for suffering. Journalists and celebrities are pressuring these impressionable minds to believe human bodies are for self-gratification. Websites and entertainment are inundating them to assume that only productivity and control can attain value.
So many adolescents—our little ones—are facing broken relationships. So many are struggling with confused identities. So many feel the competition, conflict, anxiety, and anger that have overtaken our society. Addictions and suicides have skyrocketed. The culture tells them the answer they desperately seek requires exterminating the least of these.
This is our chance! This is your chance to save lives! The generations are listening. Their souls yearn to be touched with the Gospel of Jesus Christ. You know the uniqueness of our message. You understand how vital and vibrant our distinctive voice is. Our encouragement comes from God creating, redeeming, and calling every human life to be His own precious treasure forever. Our concern is for hearts and eternities, not just laws and morals. Our approach brings joy, hope, courage, and compassion.
Help us share it today! Help us shape the years and lives to come with a gift to continue our ministry. We can't wait to experience with you the reward of taking part in what God is doing!
Did you know Lutherans For Life offers memorials? Monthly sponsorships? Planned giving? Paperless donations? And you can be a Gospel-motivated voice For Life by shopping at Amazon.com or buying a house! Click here to find out!
From the Executive Director
Adoption – God's "WANTED!" Sign by Pastor Michael Salemink
Lutherans For Life – Bethesda Lutheran Communities
God's Word for Whatever – Bethesda Lutheran Communities – Lutherans For Life by Sandra Brese Rice

Abortion/Post Abortion/Alternatives
Is It Really a Woman's Choice? by Jean Amundson
Word of Hope
Don't Forget the Men! by Jean Amundson
Family Living
Adoption: Finding a Family for a Child
Life Quotes on Adoption
The DNA of Adoption by Pastor Michael Salemink
Meant to Be by Lynette Auch
Life Thoughts in the Church Year
World News
Spotlight on Lutherans For Life
Share the Life Message All Through the Year! / Word of Hope
Hope-Filled Promises by Michelle Bauman
The First Two Months by Michelle Bauman
Y4Life at FLY and NYG
We Were Busy This Summer! by Pastor Michael Salemink
2020 March for Life/Estate Planning/Real Estate for Life/LFL on Social Media
LAMBs – Lutherans Assembling Mercy Blankets
2019 LFL Regional Conferences