From the Executive Director
Ten Blessings of Loving Someone with Special Needs by Pastor Michael Salemink
Abortion/Post Abortion/Alternatives
An Answer to 20 Years of Prayer! by Diane E. Schroeder
There Already Is a Law by Deaconess Tiffany Manor
Does Disability Warrant Abortion or Assisted Suicide? by Pastor Michael Salemink
Family Living
Living with Disability at Church by Mona Fuerstenau
Caring for the Caregiver by Lynette Auch
Families Belong Together! by Pastor Michael Salemink
Lutherans For Life Resources

Life Thoughts in the Church Year
World News

Spotlight on Lutherans For Life
Share the Life Message All through the Year! / Word of Hope
For Life Along the Root River by Virginia J. Flo
Can You Believe This? A Very Shocking Statistic (Part Two) by John Hawkins
2018 LFL National Conference – From Age to Age the Same
Lutherans For Life National Staff Holds Retreat
Living the Dream … Sharing the Love! by Virginia J. Flo
Coming This Fall! 2019 Life Sunday Resources
All children have special needs. Every human being comes with unique and individual needs. Their distinctive circumstances and personalities may bring certain challenges, but they also grant irreplaceable blessings. Where sin sees others—with or without disabilities—as threats to personal desires and priorities, Christian grace and faith can see them as gifts of hope and purpose and receive them as treasures and joys.
Here are just ten of the many ways:
They prove God sustains. Despite what individuals without disabilities might assume, persons with disabilities enjoy their lives as much as anyone else. They appreciate all its opportunities and gifts, even in the midst of affliction.

They embody grace. Living with disability proclaims that age, appearance, and ability don't make a person more or less valuable. Rather, God's love in creating, redeeming, and calling pronounces every member of our race precious.

They model community. Persons who have impairments demonstrate how all human beings get to depend upon our Heavenly Father and upon each other.

They add another viewpoint. Those who lack what many take for granted contribute insights on life and relationships that we might not otherwise experience.

They invite servanthood. Neighbors that require particular attention and assistance provide us with opportunities to step outside ourselves and our concerns for the privilege of showing compassion.

They surprise. What a delight to witness in these exceptional people how God's goodness can't be limited by our expectations and familiarities!

They underscore the promises of Paradise. When brokenness becomes more obvious, it highlights the comfort that comes from our hope in the resurrection to everlasting life in our Savior's new creation.

They prepare us to help others. Practicing acts of kindness toward the ones whose needs we can clearly perceive trains and shapes us for aiding everybody around us, especially the least of these.

They personify Christ. In the hurts and handicaps of individuals with disabilities, we encounter Christ Himself who incarnates heaven among us in humility. They draw us near to the Father whose power is made perfect in weakness—and not just theirs but even ours.

They blaze us a trail. Loving someone with special needs prepares us to face the days when our own frailties inevitably increase. Whether those frailties show up in injuries or ailments or age, we will have learned how to inhabit them with courage.
In the last issue of LifeDate, I shared that a Pew Research Study had found that 46% of LCMS Lutherans believe that abortion should be legal in all or most circumstances. As to what may have contributed to this discouraging statistic, I said that in many cases either a Gospel-centered, life-affirming stance has not been shared with those in the pews (or only very sparingly), or if it has, it's been forgotten or rejected by its members. We also explored in depth the first point.
Now we're going to look at the second point. What are some reasons, despite ongoing and strong pro-life advocacy in the parish, that folks might still identify with the pro-choice half?
One reason is that a lot of church members, even many who believe that life begins at conception, feel they have no right to challenge existing decisions or laws which legalize abortion. This may be because of one or more of the following:
Abortion is seen as a political issue. It is something, therefore, that the church shouldn't be involved in any more than they would other election issues. For example, abortion is seen as being on par with whether Social Security should be privatized.
(Abortion is a sin and a spiritual issue. It involves the destruction of innocent life. Therefore, as Lutherans we should advocate that it be illegal, take action to oppose its practice, and help those affected by it.)
Similarly, some Lutherans feel that to oppose abortion is to violate the "wall of separation of church and state." Over the past few decades, this phrase has become engraved in the American psyche like it is part of the Gospels.
(Despite all this, you won't find these words in the Constitution. Nowhere does it say you can't advocate For Life on religious grounds and to do so would breach a legal "wall." Even if the Constitution so dictated, the Bible tells us that if we had to decide between the two, "We must obey God rather than men" [Peter in Acts 5:29].)
Also related to this are Lutherans who buy into the argument that while they personally would find getting an abortion abhorrent, they don't feel they have the right to tell their neighbor what to do. "It's their own body, after all, isn't it? Why bother to legislate morality?"
(But is it really "their own body"? A simple test will show that from the moment of conception the baby has a totally different DNA make-up than the mother. That alone says we're dealing with a separate human being who, like those already born, deserves the right to live.)
In the public arena, one more reason Lutherans may be conceding to the other side is cynicism or (more charitably) heavy skepticism. Abortion has been legal for over 40 years, and after all, "you can't fight city hall"! So, despite having a legal right to do so, why actively oppose abortion because it'll never be banned or anything close to it?
(Standing up For Life has made a difference. Abortion rates have been declining for years nationwide. A number of factors figure into this, but certainly advocacy for more restrictive abortion laws and a massive, ongoing, educational offensive by pro-life forces has played no small part in women not having one. An example of the influence of the latter can be found right at LFL where dozens if not hundreds of girls and women have told the ministry that because of something we shared, they decided to have their baby. To God be the glory!)
Finally, let's look at one more factor which I think probably figures heavily in this statistic: Indifference. Or perhaps a better word: Apathy. Webster defines apathy as "1: lack of feeling or emotion: impassiveness or 2: lack of interest or concern." In short, maybe they're not sure if it is a baby in the womb or not. But either way, they just don't care if it's aborted or not.
Apathy, of course, is not something that was unknown at the time of the apostles. Saint Paul said in Romans 12:9-13:
"Let love be genuine. Abhor what is evil; hold fast to what is good. Love one another with brotherly affection. Outdo one another in showing honor. Do not be slothful in zeal, be fervent in spirit, serve the Lord. Rejoice in hope, be patient in tribulation, be constant in prayer. Contribute to the needs of the saints and seek to show hospitality."
So where does that leave us when it comes to trying to bring nearly half of our fellow Christians into (or back into) the Christian and Lutheran pro-life camp?
If you are a pastor and your church has been resistant to affirming life, pray for guidance and try again! And, likewise, if you're a layperson whose church hasn't shown much interest, try again also. Please know that LFL and its staff are here to help you with consultation, materials, and much more.
If your congregation is For Life but you want to do more, please contact LFL and ask about starting a Life Team or Life Chapter (or see if one may be close by).
Finally, help with the financial side of this ministry. Please send in a gift in the envelope provided or go online. Over 95% of LFL's operating budget comes from gifts and offerings. This year, we need $1.1 million plus. We are very grateful for your support, because along with the guidance of the Holy Spirit, everything we do happens as a direct result of your giving. Many thanks!
What if there's a disability? Some supporters of abortion use disability to justify it. Advocates of assisted suicide often do too. Disabilities can present challenges for the persons who have them. Certain conditions do cut lifespans. They might bring about death, even before birth or shortly after. All of these concerns can cause difficulties and suffering for the patients' loved ones. We must not dismiss the weight of the fears and griefs they face.
So, should we sanction abortion or assisted suicide for their situations? May we decriminalize the ending of lives in order to avoid their afflictions? Does disability constitute a capital offense? Are deadly measures the only remedies available for disability? Are they even the best responses? How do abortion access and poison prescriptions make things better for persons with disabilities, especially the ones who desire to survive?
We rejoice that disability does not diminish a person's worth. What we are—not what we do—gives us our value. Persons who exhibit less-than-average intelligence do not have an inferior humanity because of it. Greater strength, skill, insight, or attractiveness does not get one twice the rights. Those who develop injuries or disorders do not suddenly become a fraction of their former self. Individuals with only one arm or ear or lung or leg—or none at all—still possess genetic membership in this particular species. They still possess Almighty God's own image just as much as anybody with enough bones or extra organs.
Jesus explicitly welcomed and intentionally affirmed visibly broken folks in His earthly ministry. He did it to indicate that none of us can accomplish anything apart from His grace, but that by abiding in Him, anyone can bear abundant fruit. The same fallenness that manifests in physical limitations affects us all. He also incarnated disabilities and endured deformities in His crucifixion ("He took our illnesses and bore our diseases" Matthew 8:17) to declare and demonstrate how God cherishes even the least of these as precious treasures. This gives purpose to our every pain ("but that the works of God might be displayed" John 9:3b), as He perfects His power precisely in human weakness (2 Corinthians 12:9). In fact, He specifically selects what is foolish and weak, what is low and despised (1 Corinthians 1:27-28) to prove His saving strength (2 Corinthians 4:7-10).
Most persons with disabilities appreciate and enjoy their lives. Their families feel grateful to know them and have them and love them. Doctors regularly misdiagnose, but no medical professional can undo a death. Many disabilities and deformities do not turn out as challenging as feared. Living with disability can actually offer advantages. It motivates us to compassion and cooperation. It provides unique and otherwise overlooked perspectives on life and relationships.
On the other hand, using death to deal with adversity multiplies misery. Getting rid of a person cheaply imitates getting rid of a problem. Getting rid of a problem poorly substitutes for getting to a solution. Research suggests that abortions due to disability or deformity increase the degree of post-abortion grief and guilt. Allowing physician-assisted suicide imposes a societal expectation that pressures persons with disabilities, terminal diagnoses, or depression to take their own lives. Which injuries, emotional disorders, or behavior stresses qualify for extermination, and which don't? Would laws limit abortions and assisted suicides only to circumstances of disability? (Spoiler alert: they haven't.) What distinguishes a disability from just another difference? What other differences between individuals would we find unacceptable? Is it only a coincidence that Planned Parenthood arose out of this kind of ideology, called eugenics? Ought we not take caution that this discredited pseudo-science inspired the Holocaust?
A disability may describe a person, but it never defines that person. And God's involvement, love's involvement, redefines and redeems both disability and humanity. It likely will not grant us all the answers we seek, but His Gospel of forgiveness and resurrection in Jesus Christ offers the answer we need—the answer to disability, to disease, to discomfort of all kinds, and to death itself. In His hand every unknown opens space for hope. Miracles only fit where men fail.
Ask not, "What if there's a disability?" Ask instead, "So what if there's a disability?"
"'My grace is sufficient for you, for my power is made perfect in weakness.' Therefore I will boast all the more gladly of my weaknesses, so that the power of Christ may rest upon me." (2 Corinthians 12:9)
"But God chose what is foolish in the world to shame the wise; God chose what is weak in the world to shame the strong; God chose what is low and despised in the world, even things that are not, to bring to nothing things that are …" (1 Corinthians 1:27-28)
"But we have this treasure in jars of clay, to show that the surpassing power belongs to God and not to us. We are afflicted in every way, but not crushed; perplexed, but not driven to despair; persecuted, but not forsaken; struck down, but not destroyed; always carrying in the body the death of Jesus, so that the life of Jesus may also be manifested in our bodies." (2 Corinthians 4:7-10)
In 1999, Planned Parenthood (PP) opened its Heartland Clinic in Bettendorf, Iowa. As in many of PP's activities, the opening of this abortion clinic was shielded from the public until it was too late to stop it. So, every day two women from the local Life and Family Coalition parked a trailer on the property across the street from the clinic, protesting and encouraging women to give life to their babies.
As a result of their efforts, the Women's Choice Center (WCC) opened its doors on July 2, 2002, offering pregnancy tests, counseling, and material goods. Throughout subsequent years, they expanded their services to include ultrasound, STD testing, and perinatal hospice support, as well as a mobile medical unit that visits seven locations in the Quad Cities. The number of women coming for help continued to expand, with WCC serving 1,500 women in 2017. However, their main goal was always to see Heartland Planned Parenthood located across the street close their doors—the original goal of the Life and Family Coalition.
After almost 20 years of prayers, God worked one of His miracles. The Iowa legislature succeeded in removing Medicaid and state funding from Planned Parenthood. In response, PP closed four Iowa clinics, Heartland being one of them.
After approximately 10,000 abortions had been performed in that building, a plan for its redemption was conceived by WCC that involved its purchase and conversion into a pro-life and pro-family ministry.
Knowing that PP would never sell to them directly, WCC used an intermediary to purchase the building for one million dollars—three times less than what PP had paid for its construction. A local priest was called to perform exorcisms in the killing rooms, which have been gutted and turned into counseling and ultrasound rooms. One half of the 8,500 square foot building will be devoted to the work of WCC with two ultrasound rooms, two counseling rooms, several exam rooms, and space for offices, as well as Chloe's Closet which gives material support to pregnant women and their families. The mobile unit will continue supplying services around the community. The other half of the building will be devoted to a pro-life, pro-family, faith-based family medical practice that will offer, in addition to OB-GYN services through 28 weeks of pregnancy, mental health services and fertility treatment, including NaPro technology. A Christian daycare organization will be moving into the former WCC building and will offer daycare to about 50 children from six weeks to 13 years of age.
Pastor Keith Piotter and the members of Our Savior Lutheran Church in Bettendorf have been involved in the work of WCC for many years. They have contributed financial support and countless volunteer hours, participated in prayer vigils and celebrations, and partnered with WCC in facility sharing. Just recently, the church sponsored a "Legacy Donor Thank You Banquet" at the church. Pastor Piotter has been on the WCC Board of Directors for four years and has participated in all of the major decisions to confront PP and convert their building into a vibrant pro-life ministry that is saving lives.
"For 18 years Planned Parenthood has had a killing center one mile from our church. Many prayers and efforts have been given to see this curse removed from our neighborhood. In God's time, we are now able to celebrate the closing and conversion of this center as an exciting miracle that has happened in our community." Pastor Keith Piotter
Closing Heartland PP and seeing it converted to a pro-life ministry was a dream of retiring WCC Executive Director, Vicki Tyler, that has now come to fruition:
"Everything that was in here was dark. There was no life here. There was death," she said. "It's not like that anymore. It's full of life … We thank God and give Him the glory."
"His tail swept down a third of the stars of heaven and cast them to the earth. And the dragon stood before the woman who was about to give birth, so that when she bore her child he might devour it" (Revelation 12:4).
The demons are laughing.
Officials expelled a life-affirming community from the county fair this summer. The community known as "Life" had received prior approval for their display. It featured photos of babies growing in the womb and medically accurate hands-on fetal models (just like the ones many Lutherans For Life Teams and Chapters use). Volunteers at the booth were offering friendly and uplifting conversation about pregnancy and parenting. Most of their visitors appreciated the positive and compassionate outreach.
Then a few evening passersby became "aggressively vocal"—about abortion. When Life staff arrived the next morning, authorities had torn the stand down. One local councilman said, "It's a community festival—that includes women who have had to make really hard family-planning decisions who don't want plastic fetuses in their faces." Life's education director stressed that their presence is gentle, and their message is never aggressive. They just want to help women, but fair organizers claim it goes against their values ("Government-Run Fair Kicks Out Pro-Life Group," LifeNews.com, 7/23/18).
And the demons are laughing. They've deceived the world into believing death offers a solution to suffering. They've convinced our culture that life issues mean anger and guilt. They've captured hearts and clouded minds with fear.
You can change that. You can do something about it.
Did you know that the angels are dancing? The demons are laughing, but the angels are dancing. The angels are dancing because Almighty God still shares grace. The Heavenly Father still holds human beings precious, all of them. Our Lord and Savior still finds human lives special, every one of us.
You can't shut the demons up. But you can drown them out.
Will you help us reach grieving, lonely hearts with the joy that is louder than officials or fear? Will you help us touch frightened, threatened lives with the hope that is bolder than authorities or anger? Your special financial gift is the only way we can continue to bring forgiveness that heals hurts and to give purpose that saves lives. Lutherans For Life keeps speaking God's truth—and it doesn't go unnoticed. Our ministry goes on showing Christ's love—and it's making a difference.
But the demons are laughing.
"Protect our right to safely [expletive] whoever the [expletive] we want." Planned Parenthood of New York City has launched a profane ad campaign. They're putting the four-letter word on t-shirts and bar napkins. And in an online commercial, after a diverse cast of potty-mouths—including a shirtless lady, two gay couples, and a drag queen—orders viewers to "[expletive] New York and everyone in it," they advise, "Donate to PP of NYC." The abortion provider claims, "New Yorkers have more sex than anyone else in America. Planned Parenthood is proud to provide their abortion services."
And the demons are laughing. They've got our population thinking humankind's life is all about sexuality. They've made folks obsessed with courts and polls and taxes and status. They've sold the public on freedoms and rights and adult desires.
You can answer this. You can act on it.
Do you remember how the angels are dancing? The angels are dancing because God's love gives human life value. Ages, appearances, and abilities cannot impair or improve a person's worth. Jesus Christ creates, redeems, and calls every member of our race priceless from the miraculous instant of fertilization until after the body fails.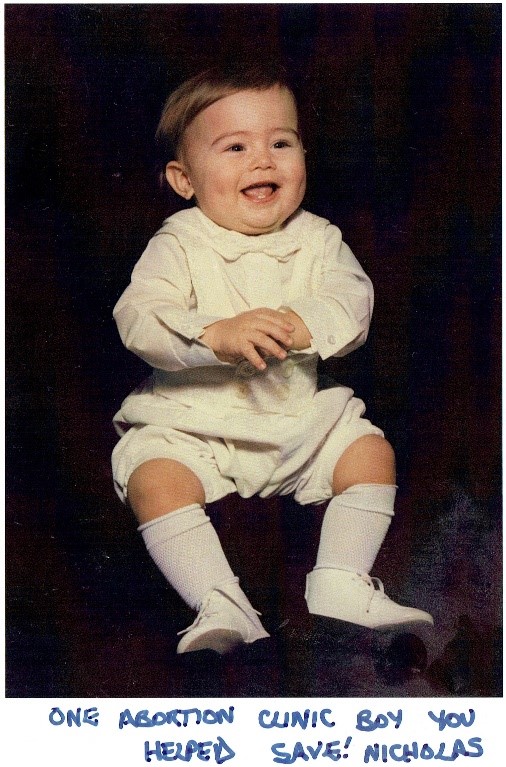 The angels are dancing because of Nicholas and his mother. She handed me this picture outside an abortion facility. A group of Lutherans For Life prayed there and sang. We introduced ourselves to the clinic staff and the incoming clients. We offered alternative services and support at the mobile pregnancy resource center down the street. "A few years ago," she assured me, "your witness and care spared this little one's life. Your ministry is working. Please continue turning these mothers around."
You can't dampen the demons' whispers. But you can amplify the Word of the Lord.
Please answer the cries for help with us. Join us in reaching our neighbors—and yours—who need to hear how much they matter.
You see, the demons may be laughing, but the angels keep on dancing. The demons are laughing because Lutherans For Life has great needs. But the angels are dancing because we have a nationwide network of volunteer communities. The demons are laughing because our funds are short and we're behind our budget to meet all the opportunities God has involved us in this year. But the angels are dancing because we have daily interactions educating, readying, and encouraging. They're dancing with the Lord our God.
They're dancing because we have you.
You can't stifle the demons' lies. But you can smother them with God's promises. You can come alongside us with courage. You can join us with compassion as our partner.
Come, dance with us. Give to Lutherans For Life today!
"Why do the nations rage and the peoples plot in vain? … He who sits in the heavens laughs … 'As for me, I have set my King on Zion, my holy hill' … Blessed are all who take refuge in him."
(Psalm 2:1, 4, 6, 12b)
Last year, in the fall months of September, October, and November, we received gifts totaling $192,707. This year we project we'll need almost twice that amount, and your generosity is essential in getting us there!
Families belong together!
Immigrants (refugees?) sometimes attempt unapproved entry into our country. Our laws grant each one due process to clarify their crime and their claims. When they bring little ones along, certain regulations have forbidden housing the children with the adults. These arrangements make sense, but we ought not take lightly the separation of the young from parents. So protestors have recently raised the rallying cry against the detentions: Families belong together!
Christians can affirm this assertion. Families do indeed belong together. Both nature and Scripture establish it as truth. Our Almighty Maker and Heavenly Father has put husbands and wives, fathers and mothers, sons and daughters, sisters and brothers together. What He has joined, no one may rend. Only when it alleviates immediate and extreme danger should we entertain removing one from another, and then only until the risk resolves.
Families belong together. So no more adultery. No more fornication. No more affairs. No more lustful fantasizing. No more pornography. No more perversions. No more sending nude selfies or lewd texts. No more enslaving ourselves to animalistic appetites. No more disconnecting sexuality from marriage and procreation. Let's instead exercise this blessing in exclusive service to our God-given spouse.
Families belong together. So no more freezing embryos. No more leaving them in laboratory storage indefinitely. No more manufacturing them by the handfuls. No more pulling them apart to procure their stem cells. No more genetically engineering them in the name of scientific advancement. No more declaring them "excess" and dispatching them for experimentation. Let's instead receive every child as a precious treasure and a special privilege.
Families belong together. So no more "no-fault" divorces. No more relaxing restrictions against broken homes. No more dissolving wedding bonds simply upon demand. No more cheapening nuptial promises by permitting abandonment of them at will and without good reason. No more cohabitation without matrimony. No more forsaking society's responsibility to support and safeguard these sacred commitments when they get threatened or weakened. Let's instead strengthen and defend every one-flesh union.
Families belong together. So no more physician-assisted suicides. No more letting loved ones feel like burdens or better off dead because of their age or their ailments. No more enabling them to put themselves out of our misery. No more lazy "love" that lives and lets die. No more keeping ourselves aloof and indifferent to the suffering of others. Let's instead marshal all the resources of community to accompany one another in addressing affliction.
Families belong together. So no more abortions. No more killing children for convenience. No more prioritizing our liberties over their rights. No more appealing to privacy or poverty or adversity or public opinion. No more staying oblivious about which contraceptives cause miscarriages. No more forsaking panicked hearts to deal with their surprise pregnancies alone. Let's instead advocate and intervene to celebrate and save every member of the human race.
Families belong together. So no more salvation-by-works. No more assessing anyone's value according to ages or appearances or abilities. No more underestimating the ways God's grace redeems lost causes and the most hopeless-looking situations. No more acting as if anybody's history or sinfulness falls outside of His reach and rescue. No more forgetting that His will and His Word, His incarnation and His forgiveness have invested even our existences with everlasting significance. Let's instead discover and distribute the abundant life in God's unconditional love.
Families belong together. So no more keeping quiet. No more "minding your own business." No more using "two kingdoms" as an excuse. No more avoiding controversial conversations just because they are difficult. No more sidestepping life issues just because they are "political matters" or "personal decisions." No more hiding the healing light of the Gospel of Jesus Christ under a basket. No more hoarding for ourselves the abundant promises of God that those close to us so desperately desire. Let's instead declare the sanctity of life with courage and demonstrate it with compassion.
Families belong together!
Women who find out they are unexpectedly pregnant can be vulnerable. Author Emily Heiden described in a recent Hartford Courant article published on June 29, 2018, being desperate and in despair during an unplanned pregnancy when she happened across a website for a crisis pregnancy center that she later visited. I can relate to the experiences Heiden described during an unplanned pregnancy because I also have experienced an unexpected pregnancy and visited a crisis pregnancy center.
I was raised and educated to be a feminist, publicly and vocally pro-choice. My experiences with crisis pregnancy centers have been markedly different from Emily's description and other Hartford Courant articles that referred to so-called deceptive practices (which included using the color purple on signage as well as the staff's choice of apparel, practices that don't seem particularly deceitful to my reading).
I have not experienced deception with the multiple crisis pregnancy centers I have visited. When asked if such centers provide abortions, the answer provided was always "no." I was never forced to view photos or videos like the ones Heiden described, and I presume she must not have experienced force either or she would have pressed charges for being held against her will.
My experiences were of quiet, calm, professional office spaces where pregnancy tests and ultrasounds were performed. I met compassionate staff members, including licensed doctors and nurses, all of whom were women, who competently answered the questions posed to them, and who provided valuable referrals. No information was ever pushed on me. I experienced items such as maternity clothing, diapers, and infant clothing provided to clients without charge.
I now describe myself as life affirming and have done a great deal of research to learn more about beginning-of-life and end-of-life issues. Most recently my research has indicated that additional legislation is not necessary because we already have protective laws in place guarding against deception. A Courant editorial published on July 5, 2018, with the headline "There Must Be a Law" said that Connecticut should pass legislation that specifically forbids deceptive practices by crisis pregnancy centers.
Connecticut already has laws about fraudulent and deceptive advertising and legal protection for all consumers, which would presumably also cover individuals who visit pregnancy centers to consume services. The Connecticut Unfair Trade Practices Act, found in the Connecticut General Statutes section 42-110b, uses three criteria to discern whether a practice was unfair or deceptive. The criteria are:
whether the practice, without necessarily having been previously considered unlawful, offends public policy as it has been established by statutes, the common law, or otherwise—in other words, it is within at least the penumbra of some common law, statutory, or other established concept of unfairness;

whether it is immoral, unethical, oppressive, or unscrupulous;

whether it causes substantial injury to consumers (competitors or other business persons).
Because of the existing Connecticut Unfair Trade Practices Act, and particularly the criteria addressing practices that are "immoral, unethical, oppressive, or unscrupulous," there is no need to pass additional legislation that specifically targets pregnancy centers.
Deaconess Tiffany Manor is a member of the LFL Board of Directors and lives in Connecticut. A version of this article originally appeared as an op-ed in the Hartford Courant.
Are you facing a dark, confusing time in your life right now? Perhaps you fear you are pregnant or have just learned that you are, indeed, pregnant. Find out more and get help.
Each year Lutherans For Life (LFL) sponsors two essay contests for Grades 6-8 and Grades 9-12. The 2018 Minnesota finalists won based on their personal insights into life issues that demonstrate the meaning of the Lutherans For Life National Conference theme "From Age to Age the Same." The theme is based on Scripture that says, you "have been borne by me from before your birth, carried from the womb; even to your old age I am he, and to gray hairs I will carry you. I have made, and I will bear; I will carry and will save" (Isaiah 46:3b-4).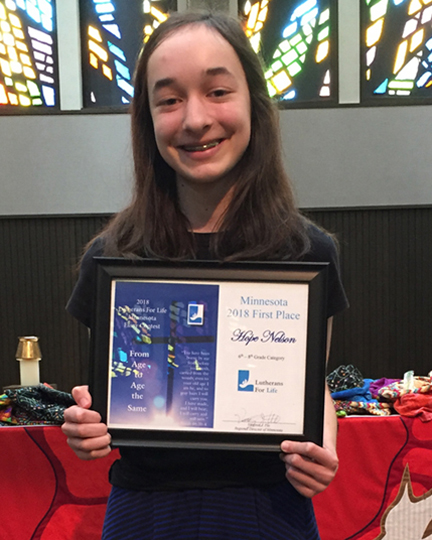 Hope Nelson from Rochester Central Lutheran School in Rochester, Minnesota, is the winner of the Grades 6-8 Minnesota Essay Contest. Hope wrote about the things in life an aborted child would miss if his/her life was cut short by abortion. She summed it all up with, "You yourself are one of a kind, and there will never, ever be anyone like you ever again. Each unborn baby is like that too, and they will all grow up into different, amazing people. But, if the unborn baby is aborted, that is just one human being who's been stopped from reaching what they could be."
Congratulations to Hope Nelson, a special person herself with a love for her Lord and Savior Jesus that showed vividly throughout her essay.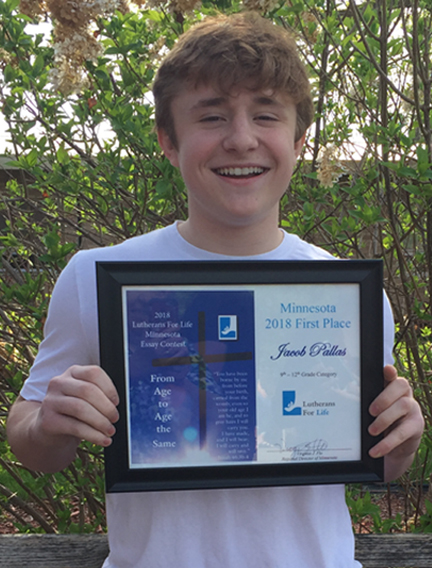 Jacob Pallas from Mayer Lutheran High School in Mayer, Minnesota, is the winner of the Grades 9-12 category. Jacob wrote a very touching essay about his friend Elly from his congregation, St. John's in Chaska, Minnesota. Jacob described Elly this way, "God has given her the gift of hospitality and encouragement. He has also given her an extra chromosome, a condition called Trisomy 21, or Down syndrome." He also added, "She is the most energetic, exciting young lady I have ever been around. Her presence fills the room up with pure joy." He went on to say, "Parents who receive a prenatal diagnosis that their child has Down syndrome should be introduced to young people like Elly so that they can see that a child with Down syndrome is so much more than just a diagnosis."
Congratulations to Jacob Pallas, a young man with a special heart for God and His creation.
The essays students write clearly show they understand life's issues and God's love For Life as they write from their hearts what they see in Scripture. Both winning essays will be included in the LFL National Essay Contest. The national winners will be invited to read their winning essays at the Lutherans For Life National Conference that is being held at Immanuel Lutheran Church in Olivette (St. Louis), Missouri, on October 12 and 13. All the students in Minnesota who entered the contest through their school, church, or home school are winners. A special thank you as well to all the teachers, parents, and pastors who supported these students during the essay process. To God be the glory!
Virginia Flo is Regional Director of Minnesota and National Conference Director.
As a Christian woman, mom, and grandmother from Iowa, I am compelled to ask: When Jesus returns, what will He say to pastors who advocate for abortion in His name? Who deny rights to unborn children, indeed the most vulnerable of all humans? Who praise a woman's freedom from motherhood but seemingly care little about a woman held captive to sin?
In March, a group of Iowa clergy and religious leaders signed a letter to the Des Moines Register advocating for abortion on demand. Signers included Methodist, Presbyterian, United Church of Christ, Episcopal, and Lutheran leaders.
The letter spoke against a bill that would prohibit abortions from the moment an unborn baby's heartbeat is detectable, which is about six weeks of pregnancy. Some scientists give evidence for an unborn baby's heartbeat beginning at 21 days; still others link to evidence that the heartbeat begins at about 18 days.
Oddly enough, the clergy who signed this letter claim that the Iowa bill prohibiting abortions is based on religion, not science. Now here is a real switch-a-roo. Government leaders are speaking up in defense of unborn babies because their hearts are beating, but church leaders are blaming them for being religious.
There are more questions.
The pro-abortion religious leaders maintain that women deserve to make their own decisions about their bodies and their pregnancies. Haven't we heard this before? Slave owners used to say, "I have the right to do as I please with my property." Which one of us dares look at another human person created in the image of God—of any color, age, stage of development, or place of residence—and declare them "property?" How does a female pregnant with a male child get away with claiming he is her "body"? What reasonable feminist would agree that an unborn baby girl with her own unique DNA is the "property" of the older woman who carries her?
When a biologically astute Christian woman willingly consents to or encourages sexual intercourse, what does she think might result? Does her choice about motherhood come before she is sexually intimate, or after?
Let's say that a Methodist, United Church of Christ, or Lutheran woman has longed to be a grandmother. What would she think if her eight-months-pregnant daughter claims, "It's my body and I've decided to abort." Abort what? To abort means to "end" or to "terminate." What pastor can, in Jesus' name, tell a mother and her pregnant daughter that a grandchild is not to be considered human life worthy of protection?
And, speaking of protection, what about the man who fathers a child but has no legal right to save his child from abortion by scissors, spinal injection, or chemical burning? According to these religious leaders, must a daddy who turns to his own Heavenly Father for courage to do right by his unborn child be ignored?
I am ashamed for these pastors and religious leaders who signed a letter calling pro-life legislation "immoral."
"Woe to those who call evil good and good evil, who put darkness for light and light for darkness, who put bitter for sweet and sweet for bitter" (Isaiah 5:20).
"For the time is coming when people will not endure sound teaching, but having itching ears they will accumulate for themselves teachers to suit their own passions, and will turn away from listening to the truth and wander off into myths" (2 Timothy 4:3-4).
That time is now.
But there is hope! There is always hope! As a Lutheran who believes God is faithful and just, I confess with all repentant sinners:
Most merciful God, we have sinned against You in thought, word, and deed. We have not loved You with our whole hearts, nor have we loved our (littlest, biggest, youngest, or oldest) neighbor as ourselves. We deserve Your punishment. For the sake of Your Son, Jesus Christ, have mercy on us. Forgive us, renew us, and lead us not according to our will but Yours.
Looking to the Cross of Christ, we hear the One who began His earthly life as an unborn Child say to His Father, "Forgive them."
(Source: https://ezerwoman.blog/2018/03/20/calling-evil-good/)