These have been difficult days for Gospel-motivated voices For Life. The governor of Illinois signed into a law a very permissive relaxation of regulations on abortion, including the repeal of the state's previous prohibition on "late-term" abortion. In addition, the governor of Maine signed legislation redefining suicide to exclude doctors prescribing lethal doses of pharmaceuticals to patients requesting this.
This further endangers the lives of the least of these among our neighbors. The culture is telling individuals with terminal illnesses, chronic conditions, depression, and despair that death solves their difficulties—and at the very moments when their deep suffering calls for our greatest compassion and assistance. The culture is teaching that human worth and purpose depend upon attaining certain ages, appearances, or abilities. The culture is tempting individuals experiencing surprise pregnancies that violence and trauma offer their only salvation from their anxiety, isolation, and obligation.
Jesus wept. Almighty God loves nothing more than the human lives He creates, redeems, and calls as His very own treasures forever. He graciously lends them to us from fertilization to final breath that we might receive them as precious privileges and share life with them in His image. The sinful world's spineless acceptance of the devil's deceptions and selfish disregard for the Lord's joy and His gifts moves the Heavenly Father even more than us. He cares enough to enter as the divine Son born of Mary into the mess we've made.
Yes, Jesus suffers that He may withhold no mercy or love from humankind. Jesus dies with and for the victims and the advocates and the practitioners of abortion and assisted suicide. And Jesus rose. Christ is risen. His forgiveness prevails. His grace reigns. His Word and His ways work. His good and gracious will comes to pass. If wretches like me and you can be saved, if helplessly dependent creatures such as us are worth having, then any and every genetic member of our race has sacred significance.
We have now new opportunities to declare this truth with courage and demonstrate it with compassion to the nation as well as to the neighbors right in front of us. The Lord our God takes no pleasure in the death of anyone but desires that all should be saved and come to know His name, His love, and His kingdom. Even as we grieve, let us not respond with hostility but with steadfast gentleness and respect. Let us rejoice to resolve ourselves toward finding motivation, getting education, taking action, and sharing it in our every moment and every movement. And let us not doubt that the Father Almighty will change hearts and save lives—only let us watch and pray that He would invite us to witness and participate in this miraculous work.
Download LifeDate Summer/June 2019
Guest Commentary
Leap for Joy by Rev. Troy Tysdal

Abortion/Post Abortion/Alternatives
Ten Life-Affirming Science Facts by Pastor Michael Salemink
Will It Hurt? Pain Perception in the Developing Human by Dr. Sheila Page
End of Life
Pressuring Doctors & Nurses to Support Assisted Suicide & Euthanasia by Virginia Flo
Family Living
Reach Out and Touch Someone by Lynette Auch
Moms Embody Grace by Pastor Michael Salemink
Life Thoughts in the Church Year
Spotlight on Lutherans For Life
Share the Life Message All through the Year! / Word of Hope
Being a Bulldog for Life by Joanna Sherrill
Numbers by Pastor Michael Salemink
2020 March for Life/Estate Planning/Real Estate for Life/LFL on Social Media
LAMBs – Lutherans Assembling Mercy Blankets
2019 LFL Regional Conferences
I've noticed a lot of numbers lately.
1,524,039,000 abortions executed worldwide since 1921 (841,819,000 since 1970)

381,356,000 abortions in China since 1957 and 60,942,033 in the United States since 1973

926,940 children currently killed per year and 2,540 per day in this country

1,000,000 in vitro embryos currently confined to frozen storage

As many as 8,500,000 frozen embryos destroyed or discarded in America since 1978

46 chromosomes at the quarter-second of fertilization

Cardiac cells beating at 18-days gestation

Pain receptors feeling and brain-wave patterns at week eight

Viable ex utero at 21 weeks and forming memories at 29 weeks

97% of babies diagnosed with Down syndrome put to death before birth

49% of pregnancies to black women in New York City end in abortion (only 47% give birth)

Fertility rate at 1.765 births per woman nationwide (lowest in 40 years and below the 2.1 births per woman necessary to sustain population)
The digits are dizzying.
They have their usefulness in getting attention and gauging the scale. No one goes untouched by this culture encouraging the use of death as a solution to difficulty. Ultimately, though, the numbers become numbing and almost senseless. I've never met a million anythings. I haven't touched a hundred thousand anyones. I've never heard the cries of, never held the hands of, never loved, never lost that many at once. My brain can't wrap around these counts. A million is only a single figure to my mind, nine little lines (1,000,000). My heart doesn't deal in thousands or even hundreds. I have to live one moment before the next.
These matters shouldn't be just statistics.
They are not cases to be made with calculations and arguments to be won with amounts. Abortions aren't merely religious controversies or personal choices. Assisted suicides aren't simply political issues or complicated conversations.
They are people.
These realities involve people we know. These circumstances concern people we love. More importantly, they affect individuals beloved by and belonging to the Almighty Maker and Heavenly Father. These are souls whom God creates with His own hands, whom Jesus redeems with His own blood, whom the Holy Spirit embraces with His own voice. These persons He treasures forever. These persons He lends us as gifts to receive and privileges to rejoice in. They are experiences and relationships, identities and histories and destinies—each one.
Here's the way our Savior computes:
"What man of you, having a hundred sheep, if he has lost one of them, does not leave the ninety-nine in the open country, and go after the one that is lost, until he finds it? And when he has found it, he lays it on his shoulders, rejoicing. And when he comes home, he calls together his friends and his neighbors, saying to them, 'Rejoice with me, for I have found my sheep that was lost.' Just so, I tell you, there will be more joy in heaven over one sinner who repents than over ninety-nine righteous persons who need no repentance" (Luke 15:4-7).
One at a time.
Our mission and passion aren't about arithmetic. This Gospel of Life isn't for measuring. Jesus brings resurrection and forgiveness! Jesus means infinite worth, eternal grace, unconditional acceptance, universal purpose. This erases tabulation altogether and dispenses with data. It's about speaking truth, showing love. It's about changing a heart, saving a life. It's about reaching a person, planting a seed. It's about taking a chance, making a difference.
Our message and obsession are one conversation, one interaction, one moment at a time. We have one God and one Lord. We live one Gospel in one Body, same faith and same hope for all. This one is bigger than sixty million. This one is greater than a billion.
It's all about the one right in front of us.
This year I had the wonderful opportunity to become more involved in the For Life movement through my school, and I am now the president of our group Bulldogs for Life (which I invite you to check out and like on Facebook: www.facebook.com/Bulldogs4LifeCU). Here are a few things I wanted to share about the heartbeat bills and the For Life movement in general:
The heartbeat bills do not criminalize the women who get abortions OR women who have miscarriages. Only the abortionist himself/herself can be imprisoned—up to 99 years.

A common argument is that if we are For Life, we also must provide care for the women before, during, and after the pregnancy. For Life people do! That is the point of crisis pregnancy centers (CPCs). There are also many organizations that support single mothers and their children. Many For Life people are foster parents or adopt children themselves. Others donate their time, money, and other resources to help parents who foster children or are trying to become adoptive parents.

For Life people care about women as well and are not trying to take away their rights. We have compassion for women that are struggling or women that are victims of rape or incest. However, we believe that ALL life has value. Murdering the child does not solve the problem but adds further violence.

Most For Life people are very peaceful in their actions. When we pray outside Planned Parenthood or talk to women, we are not trying to shame them but rather offer them support and let them know that they are strong enough to be a mother. We also pray that their hearts may be changed and they will see the truth that life is sacred.

People who are For Life should not be attacked or ridiculed because of their convictions. Just like those who claim a right to abortion, we have freedom of speech—which is the beauty of living in the USA! (I come from a large family—13 children—and people have asked me if my parents know what abortion or birth control is. That is a wildly inappropriate thing to say and an insult to my family.)

If you are going to describe a fetus or unborn baby as a clump of cells, please open a textbook. The development of a baby is a beautiful thing to learn about, and I'm sure you will be amazed.

Please don't tell me "my body, my choice" is a reason to have an abortion. There's another body—another someone—within you!

Finally, all For Life people should support the new laws in Alabama, Georgia, and Mississippi. We have been blessed to see the bravery of these states during our lifetime, and they need our support now more than ever.
The human body develops as a single unit, not in pieces, from the moment of conception. It is important to realize that human development is not a series of switches being turned on or an assembly of pieces. It is a dynamic continuum of differentiation and movement.

The beginning of the nervous system implies the beginning of function. The idea that the function of the nervous system is added at some time after the development of its shape and structure is inconsistent with the observable order of development of all the other organ systems in the human. The internal organs and the nervous system are functional at the beginning of their formation.

There are two definitions of pain: a subjective psychological one, and an objective basic scientific definition. The basic scientkfkc definition states that pain is a defense mechanism for the body that is directly correlated to tissue damage. It causes the individual to move away from a painful stimulus. Repeated studies have shown that people feel pain at precisely the time that cell damage occurs.

Almost all pain fibers terminate in the lower brain centers (the reticular activating system and the thalamus). Type C fibers, responsible for burning pain, terminate almost exclusively in the reticular formation. A very small percentage of Type A fibers will connect in the thalamus to neurons that travel to the cortex for the purpose of localizing pain.

The fundamental unit of pain perception—the peripheral nerves, spinal cord, and reticular activating system—is completed as a unit between seven and eight weeks. By 10 weeks, the motion of breathing begins and continues until birth, shaping and developing the respiratory system. The nervous system and the other organ systems are highly developed and functional. At this time, trauma to the unborn child can cause pain.

All sensory receptors are denser in a baby than in an older child. They are very sensitive to their environment, and they are able to feel pain.
Dr. Sheila Page is board certified in neuromusculoskeletal medicine and osteopathic manipulative therapy, is an associate scholar with the Charlotte Lozier Institute, and is a board member of Lutherans For Life. She was also a presenter at the 2019 Lutherans For Life Regional Conference in Grapevine, Texas.
A few years ago, I was approached by a couple considering an abortion. They wanted a pastor's opinion, so I gave them one. I told them that God values life—so much so that He sent His one and only Son to be crucified for the sins of the world. The young couple seemed conflicted. "But, it's legal!" replied the young man.
About a year later, the governor of my state vetoed a bill requiring doctors to ask women seeking an abortion if they would first like to see an ultrasound. I watched on social media as several friends rejoiced over the veto—with one friend writing, "I've never been so proud to live in this state!"
These comments came from intelligent people, but intelligent people who have been deceived. The Scriptures tell us that it is God who knits a child together (Psalm 139:13), and even that the infant John the Baptist leapt for joy in his mother's womb when he first heard the voice of Mary—the mother of his Lord (Luke 1:44).
As the Church, we are created to stand against evil. We are created to speak truth... and forgiveness. The truth is that abortion ends the life of a human being, and we should be unwavering in our opposition to it. But that is not the end of the story. We have been given the gift of Christ, and the power of Christ can wash our sins away.
Perhaps that is the message you need to hear today—the message that all sinners need. Whatever your sin, no matter how big or how small, the blood of Jesus is enough.
May your soul leap for joy—for your Savior has come!
Rev. Troy Tysdal is director of communications and prayer for the Church of the Lutheran Brethren and serves as editor in chief of Faith & Fellowship magazine.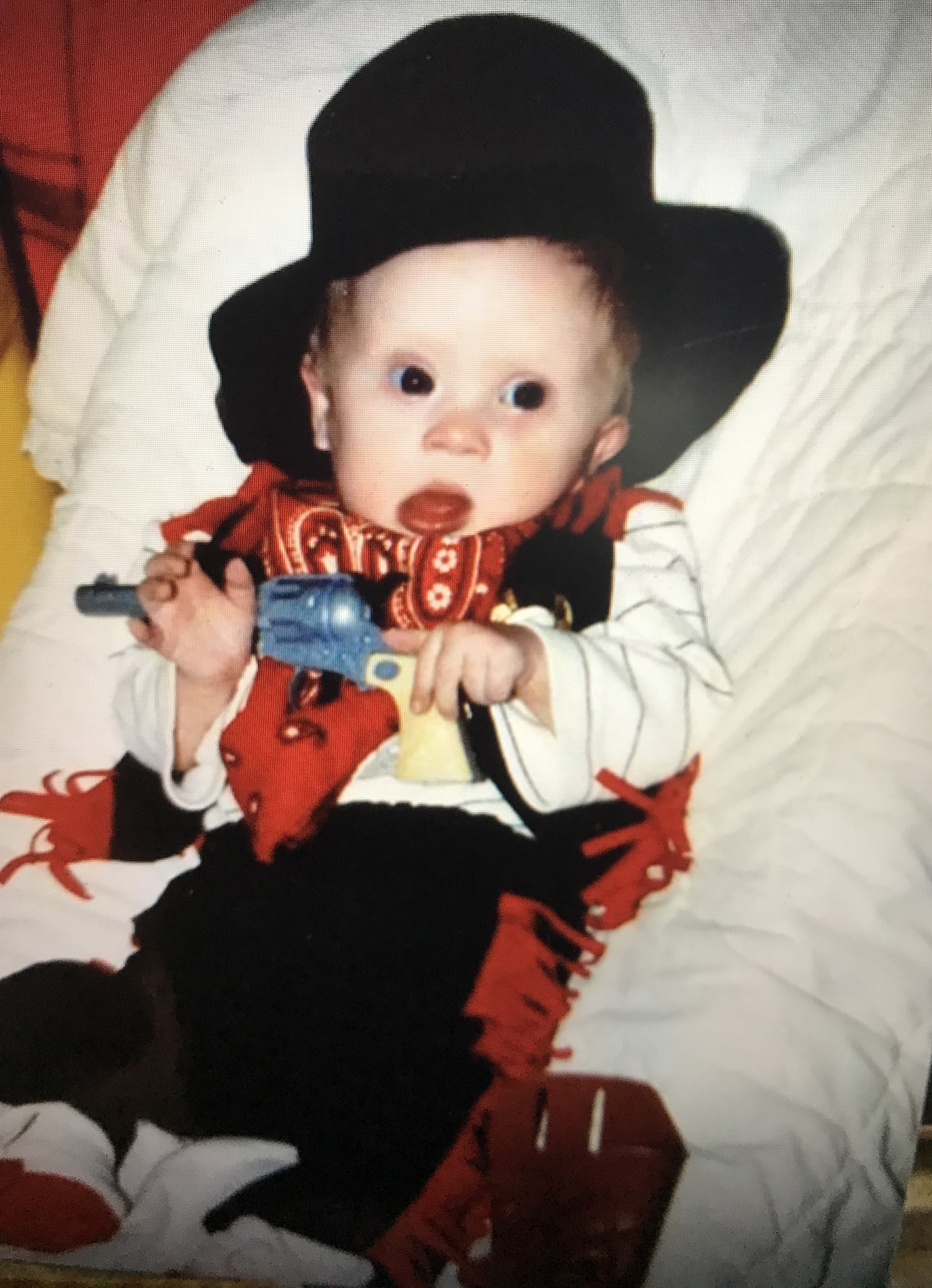 On March 30, 2019, I spoke to my congregation about World Down Syndrome Day that was celebrated on March 21. This was so dear to my heart as I was also celebrating the memory of my son, Jacob, whose birthday was March 28—he would have been 30 years old. I had flowers on the altar celebrating his life on this earth and celebrating his everlasting life with Jesus. It was quite emotional. Jacob was born at 7:30 p.m. with Down syndrome. I was not made aware of his condition until 10:30 p.m. when a nurse came in to tell me a pediatrician was coming in to talk with us. I knew that this was not good news.
When the pediatrician walked in the room, he said, "I am sorry, but your son was born with Down syndrome—which is a form of mental retardation." What a shock that was to my husband and me. Forty percent of children born with Down syndrome have a heart problem. So, at midnight they transferred Jacob to Minneapolis Children's Hospital to check his heart. They stated that if everything was okay he would be brought back to me. At 6:30 a.m. the next morning, I was contacted by a pediatric cardiologist who stated that my son had a severe heart condition and would need open-heart surgery when he got to be about 10 pounds. A couple hours later, I received another call from a doctor who said that they believed Jacob had Hirschsprung's disease, a congenital condition in which the rectum and part of the colon fail to develop a normal system of nerves and, consequently, feces accumulate in the colon following birth. Jacob would need surgery as soon as possible. I didn't know when the bad news would stop.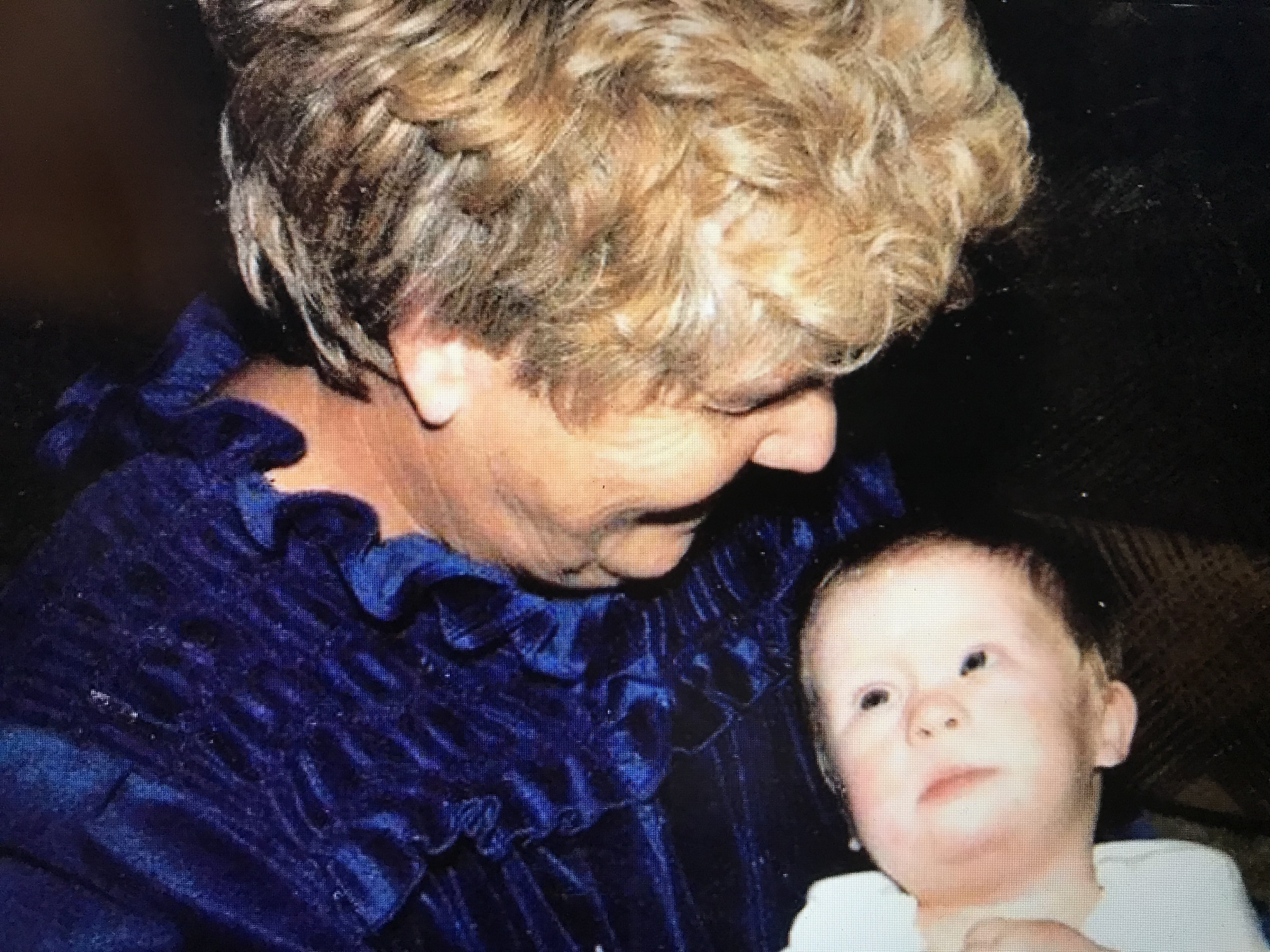 My mother flew in from Illinois, which she was planning to do anyway. We left the hospital and went directly to Minneapolis Children's Hospital and met my pastor so Jacob could be baptized as we did not know if he would make it through the surgery. When I arrived at the Neonatal Intensive Care Unit (NICU) and told the nurses that I was Jacob's mother, they all smiled and said they had all been fighting to take care of this precious little boy. It was so hard to see him, knowing what he would endure so early in his life on earth. I was confused as I did not know why God had given me this little boy and was now praying to God to help me take care of him.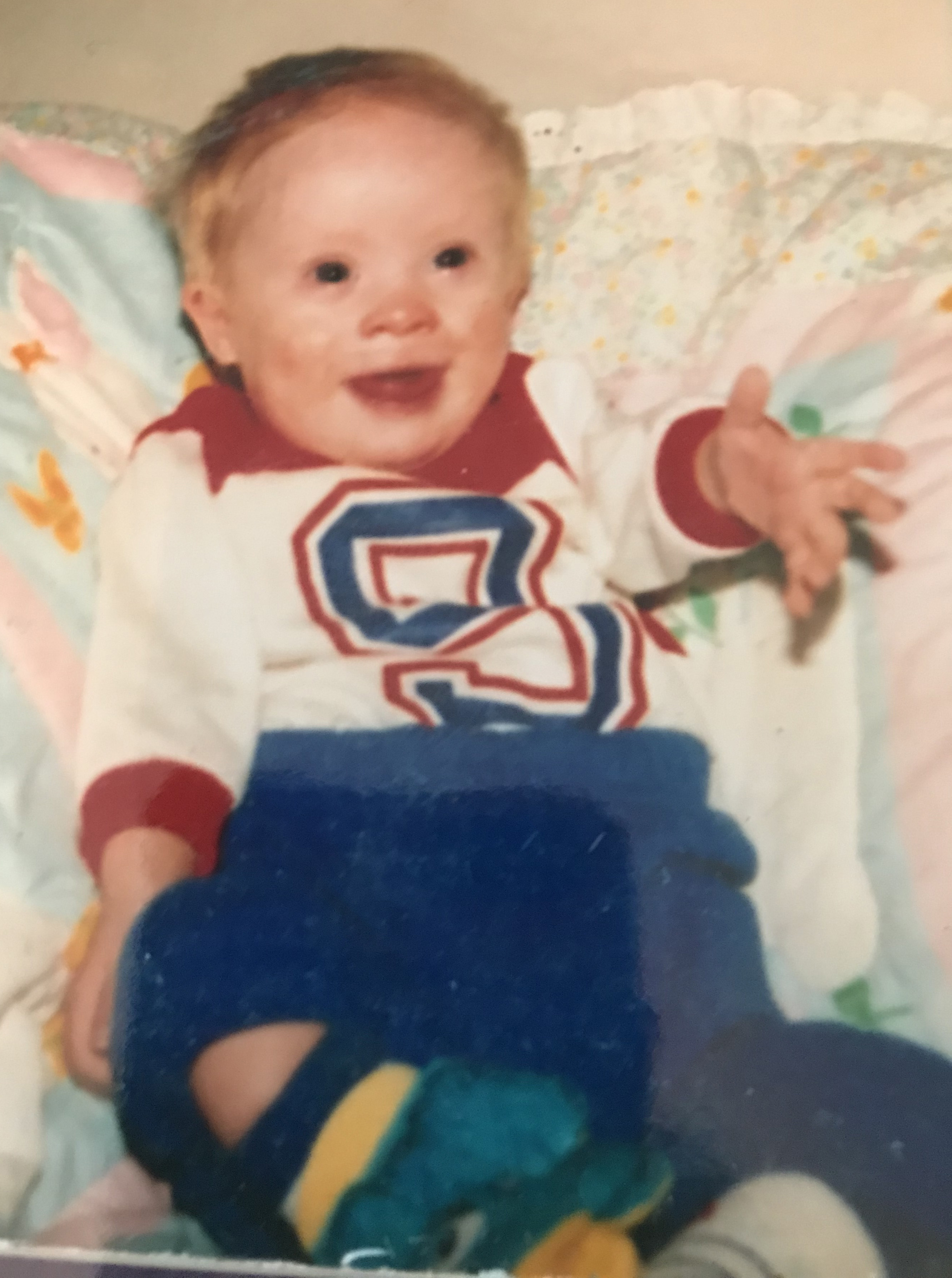 I could go on and on and on, but I now know why God gave me Jacob. Even though I only had him for one year and 22 days, he was the most precious gift I could have received. I was so blessed to have been his mother. I learned all the special things that I had to do daily to take care of him. I joined a support group with so many wonderful people. I remember being at the hospital one day and having a nurse come up to me and say, "I am so glad to see that you kept your child." I was shocked by that statement and responded, "What do you mean? This is my son. I would never ever think of such a thing." She stated that oftentimes when children have severe medical issues the parents just give up. I was so sad to hear that.
I have so many videos and pictures of Jacob. He was the sweetest little boy, and I think of him every day. On April 19, 1990, Jacob had his second open-heart surgery. The surgery went very well; however, when they took him off the heart/lung machine, his little heart just would not work. That was the saddest day of my life. I had to see him and hold him. They brought Jacob into the chapel, and we all held him for the longest time.
Jacob's funeral was beautiful and attended by so many people whose lives he had touched. In October of 1991, Shirley Volbrecht, a member of Concordia, approached me. She had become a very dear friend of mine as she had a daughter, Sue, that had Down syndrome also. She asked if I would be interested in becoming a coach for Special Olympics. Well, why not! We started with nine athletes and as of today have over 300. I cannot imagine my life without these special people that have Down syndrome. They truly are the ones that teach us the lessons in life.
I have two daughters, Amanda, 31, and Hannah, 24. When they are out and about and see a person with special needs, they get a big smile and usually go up and introduce themselves and tell them how happy they are to meet them. When people tell me how wonderful it is what I do, I tell them it's not what I do, it's what I get back in return.
Sue, who is featured in Lutherans For Life's brochure Jesus Loves Me and Those with Down Syndrome, was a very special person in my life. I was her Sunday school teacher for many years. I taught the Breakthrough Class, a special Bible class for people with disabilities. Sue would also stay at my house when her parents would go on vacation. One time she was with me for three weeks. She was part of our family, and we all loved her so much, as she did us. Sue passed away but is still in the hearts of so many that were touched by her life.
Again, I could go on and on. If people could only see what love and beauty come out of these special people with Down syndrome, it would change their lives for the better. I can't imagine life without these special human beings that make us realize how precious life is.
I loved the story about Elly and her love of Jesus and people, too. People with Down syndrome just want to be loved and appreciated for who they are. God does not make mistakes!
I had tears when I was speaking to the congregation, but they were tears of joy from all that God has given me. I know that the message I gave touched many people. As I was handing out the brochures, I was greeted by many hugs and know that my message was well received.
I had an opportunity to see the movie "Unplanned" this week, and it has given me much food for thought. It's the true story of Abby Johnson, a Planned Parenthood employee who was recruited in college and made their "star"—at least for a while. The movie really brought to life the horror of the abortion industry. It was uncanny how little the employees thought about what was going on and how callous they appeared in doing their daily work. I can't help thinking how complicated Abby's life must have been during those eight years she worked for Planned Parenthood with all of her family being pro-life and not approving of her career plans. What a conflicted time that must have been, especially as she marched up the ladder from being a volunteer to becoming clinic director. As she rejoiced in her success, each promotion made her family even more saddened by what she was doing.
Yet, she really thought she was helping women and was trying to reduce abortions, even though she was convincing women to have an abortion when they entered the clinic. That denial must have been difficult to cover up and defend. In the movie, the look on her face when she sat in church and the pastor read Psalm 139:13 NIV ("For you created my inmost being; you knit me together in my mother's womb") was very revealing. When you are wrong, it is often difficult to hear Scripture that points it out. For those few seconds as she sat there pondering those words, she clearly wanted to be somewhere else.
I think she knew that the life in the womb was really a child all along—and not a blob of tissue—as she was telling others. When she finally witnessed a surgical abortion and watched the ultrasound as the baby squirmed and tried to move away from the abortion instrument, it was all she could take. To add insult to injury, when she pointed out to the doctor doing the procedure that the baby was moving, he said, "they all do that." O my goodness, how that spoke volumes. Thinking of the many times she told patients that the baby feels no pain hit her hard, as she helplessly watched how horrible and painful it must be for that baby trying to avoid being torn apart and losing a battle for which he/she had no defense. It was the final straw in the lie she was living and covering up.
When Abby questioned an increase in her abortion quota, when in her mind she was working to reduce abortions, the tables turned quickly. It became crystal clear that the work of Planned Parenthood was not about women's health but rather it was about making money—and that meant doing as many abortions as possible. She went from being employee of the year to being the number-one enemy of her employer, Planned Parenthood. That amazed me, yet I was not surprised as this organization has demonstrated they have no heart, or they wouldn't be killing babies as their main business objective. The efforts they put in to hide that fact proves they know what they do is morally wrong, yet socially justified, and they believe the end justifies the means.
The look on the faces of those women and girls who came to the clinic, many of them just teens, was mortifying. It was like they knew they were fulfilling a death sentence and not wanting to do it. But, they didn't know how to turn back as the pressures were too great. Once they crossed the threshold of the entrance door, there basically was no turning back as the process used in the abortion clinic was swift and decisive. You see, they came there because they believed it was their "reproductive choice," but a choice is not what they got as they became the pawns of the abortion system.
I also marveled at how God turned something so bad and so evil into something good. Surely it was God making it happen as so many things took place that could have gone very badly for Abby Johnson when she had a change of heart—yet they didn't. She did struggle emotionally with the fact that 22,000 abortions took place during her watch as clinical director. (It would have been nice to see a scene where she was assured of her forgiveness through the death and resurrection of Jesus who carried those sins for her. Since she is a Christian, I pray that assurance is a part of her life today.)
She is just an ordinary person like any one of us, yet God did use her in a very big way. The work she is doing today in her organization called "And Then There Were None" is helping others get out of the abortion business. Can you imagine that the people working in this business fear for their safety and careers should they choose to leave? I suspect when you are living in lie after lie on a daily basis you have a hard time understanding the truth when it finally hits you. Plus, when your business is built on lies, the greatest fear the employer has is how to silence those who leave from telling the truth about what they witnessed. That apparently is done with more lies and intimidation. Yet, the truth will set you free, which is exactly what Abby Johnson experienced.
This movie is something I didn't think I would ever see in a movie theater. That in itself was the most amazing part of this. Now, people can see for themselves some truths they might never see elsewhere. The movie is a true story which makes it even more meaningful. I suspect when it was filmed it was extremely important to stick with the facts or the powerful Planned Parenthood would immediately challenge its release. I left hoping that everyone would see this movie before it leaves the theaters. As long as it is a box-office success, it will continue to be shown. Go buy a ticket. It is worth every minute. There are a few scenes that will make you squirm a little but nothing so bad as to warrant the R rating it received. There is no bad language, no sexual scenes, no nudity and the like as an R rating would imply. I understand that because of the graphic nature of a baby depicted dying by abortion in the computer-generated ultrasound the rating was given as that would be deemed violent, which it is. I believe teens need to be accompanied by their parents, which is a good thing. Parents can decide if this is a movie their teenager should see. It is amazing though, a child younger than 17 cannot see this movie without being accompanied by a parent, but in some places, a 16-year-old can get an abortion without a parents' knowledge or approval. Irony shows up in strange places.
Virginia J. Flo is Regional Director of Minnesota and National Conference Director of Lutherans For Life
Perhaps you've heard about the film.
Unplanned hit theaters a few weeks ago. It opened strong—the fifth-most popular movie that weekend. Life-affirming individuals, congregations, and groups have been filling the seats and even buying out entire showings. The picture's buzz is flooding social media. Inquiring Lutheran minds want to know: should we see it?
It's based on a bestselling autobiographical book of the same name. Unplanned tells the story of Abby Johnson. She volunteered at a Planned Parenthood in Texas during college and then they made her an employee. Soon she ascended to the position of clinic director—the youngest one in PP's history (despite the objections of her parents and her husband). Though she grew up Christian, she underwent two abortions of her own. After encountering "40 Days for Life" demonstrators and participating directly in an abortion procedure, Abby left the industry and the cause. She founded a ministry called "And Then There Were None," which assists abortion workers to abandon the business.
My wife and I enjoyed a private invitation to preview Unplanned before its release. (One of the producers also addressed the audience!) I had been looking forward to the movie, as I have read the book and met Abby in person. Her experiences powerfully illustrate the redemption that Jesus brings about even in lives broken by abortion. She testifies to the hope and the joy that the sanctity of life delivers regardless of age, appearance, or ability. And LFL appreciates the Gospel motivation with which her organization operates.
The film is poignant. With unflinching accuracy it captures the high stakes in life issues, accurately portraying that we're dealing with much more than mere political controversies or personal choices. The plot and the characters powerfully depict that real hearts and real hurts are involved, whatever a person's perspectives. Unlike most other popular media, it portrays the compassion with which life-affirming persons (especially our gentle, sidewalk-counseling brothers and sisters) courageously enter the sufferings of their neighbors, even the neighbors who may resent them. It proclaims the irreplaceable blessings that family, faith, and prayer provide in the valley of death's shadow. And it's quite timely, keeping the magnitude of surprise pregnancy and unborn children in the public's consciousness at a moment when the profile of life issues has perhaps never been higher.
However, Unplanned applies a little heavier hand than LFL prefers. Its central message emphasizes how bad abortions and the Planned Parenthood corporation are. The MPAA infamously assigned the picture an R rating, and this is quite appropriate. Two scenes in particular that occur very near the beginning are as graphic as any horror movie. One shows a computer-recreated ultrasound of a little one being vacuum-aspirated limb by limb into tubes and canisters. The other follows the main character through her gory-and-traumatic chemical-abortion process, and the actress plays them with gut-wrenching authenticity. I want my own sixteen-year-old son to have another year of maturity and security before viewing them.
Most problematically, this show implies the Gospel more than it announces it. In what could be considered the film's central scene (theologically, at least), Abby asks, "How can God ever forgive me?" The actor portraying her husband responds, "He's God. He's merciful." It conspicuously misses the golden opportunity to declare Jesus Christ, who has come, loved, served, died, and risen to deliver unconditional grace and healing in Word and Church. The story does depict a conversion from pro-choice to pro-life, but it doesn't really express the redemption I anticipated—from proud and desperate sinner to forgiven child of God and beloved disciple of Jesus, and from what we intend for evil to what He utilizes for good.
Take these reflections as one person's opinion. Others at LFL have seen the movie and would highly recommend it as a caring and compassionate message, showing the horror and sinfulness of abortion but also pointing people to God. Feel free to see the film yourself, form your own impressions, and share them with us. (Or, for a more cheerful aftertaste that communicates both forceful Law and full-strength Gospel, check out Bella or October Baby.) It seems to me that if Unplanned changes anyone's mind about abortion, it will do so because of its attention to the awfulness of it. But we can gratefully take advantage of the opportunity to proclaim and perform how God creates, redeems, and calls every member of our race to be His own precious treasure forever.
To that end, we offer you an Unplanned discussion guide. One of our LCMS District Life Coordinators, Rev. Dr. Craig Meissner, prepared it for us to distribute and use. It appropriately completes the conversation that the movie begins. And remember our Word of Hope crisis care and healing hotline ministry (888-21STORY or 888-217-8679; www.word-of-hope.org). Deaconess Chrissie Gillet will answer, listen, and share God's love and grace in the distinctively Lutheran spirit with every caller for whom viewing the movie triggers grief and guilt.
And thank you so much for making this mission possible!
**********
Unplanned – The Movie – Perspectives from Lutherans For Life
History, the facts of past people, civilizations, and events, can teach us many life lessons. God emphasizes the importance of history in His Word as He instructed the observation of the Passover so the children of Israel would remember their deliverance from Egyptian slavery. Jesus told us to celebrate the Lord's Supper "in remembrance" of Him.
Remembering the history of Lutherans For Life has a place of importance too.
On March 22, 1979, three courageous, determined, God-fearing individuals—Rev. Dr. Calvin J. Eichhorst, Rev. Dr. Eugene Linse, Rev. Dr. Leigh Jordahl—set their hands to the documents that birthed the life-affirming ministry of Lutherans For Life. Because of these pioneers, many lives have been touched and saved by the witness and educational efforts of LFL.
As we acknowledge and remember the 40th anniversary of LFL, let us take a moment to thank God for these people, and others like them, who were and are obedient to God's calling on their lives to take a stand and become a voice For Life, a voice for those who cannot defend themselves.
Let us take a moment to remember that every life is "handmade" by God; therefore, every life, regardless of size, level of development, environment, or degree of dependency from conception to natural death, is precious and is someone for whom Jesus died.
Let us take a moment to call upon God, to humble ourselves, to pray and to seek His face, and to turn from our wicked ways, for God promises, "… then I will hear from heaven, and I will forgive their sin and will heal their land" (2 Chronicles 7:14b NIV).
Let us take a moment to thank God for His invitation to be His hands, feet, and voice as Gospel-motivated voices For Life.
Let us take a moment to seek His will and ask His guidance for the future of Lutherans For Life in the challenges ahead.
Let us take a moment to thank God for His undeserved, yet enduring, mercy and grace toward us and the ministry of Lutherans For Life.
Let us take a moment to let God's love shine through these, our earthen vessels.

"In the same way, let your light shine before others, that they may see your good deeds and glorify your Father in heaven" (Matthew 5:16 NIV)